Anterivo
© Tiberio Sorvillo | Azienda di soggiorno e turismo Bolzano
© Tiberio Sorvillo | Azienda di soggiorno e turismo Bolzano
© Tiberio Sorvillo | Azienda di soggiorno e turismo Bolzano
© Tiberio Sorvillo | Azienda di soggiorno e turismo Bolzano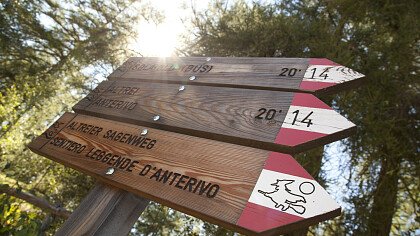 Request a free holiday quote
Hotel Anterivo
Anterivo
Hotel Langeshof is located in Anterivo, in the heart of the Monte Corno Nat...
---
starting from:
52€
night/person
Deals and holiday packages
Anterivo in the Monte Corno Nature Park
Anterivo is a small village south of Bolzano close to the Monte Corno Nature Park and all its natural beauties. The village was founded in the Middle Ages, starting from a bulk of ten farmhouses, and today it has developed into a paradise for hikers and cross-country skiers.
Thanks to its position, Anterivo is favored by a mild climate and thus welcomes tourists in every season. The nature reserve Monte Corno Nature Park features a range of animal and plant species that will make the joy of all nature lovers, and with its 400 km hiking trails (the European Walking Route E5 crosses this territory) and 900 km mountain biking trails the reserve is perfect also for sportsmen.
In winter the snow-covered meadows and forests turn Anterivo into a charming and romantic resort, tempting you into snowshoeing and cross-country skiing tours. If you are more into downhill skiing, the near slopes of the Dolomiti Superski are exactly what you are looking for. Anterivo features also an outdoor Kneipp path just outside the village, on the Sandegg hill.
A local specialty is the coffee of Anterivo, not real coffee, but a similar drink produced from a special variety of lupine grown by the locals for centuries.