San Martino in Badia
© IDM
© Albina | Tourist Office San Vigilio/San Martin - Dolomites
© Matteo Busatto
© Gustav Willeit
© Sara | Tourist Office San Vigilio/San Martin - Dolomites
© Tourist Office San Vigilio/San Martin - Dolomites
© Sara | Tourist Office San Vigilio/San Martin - Dolomites
© Sara | Tourist Office San Vigilio/San Martin - Dolomites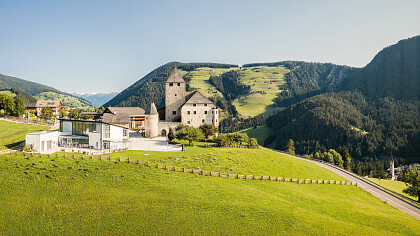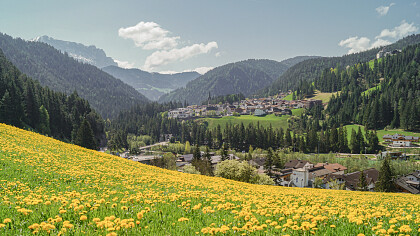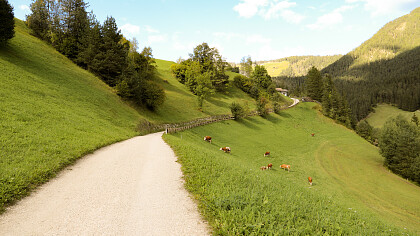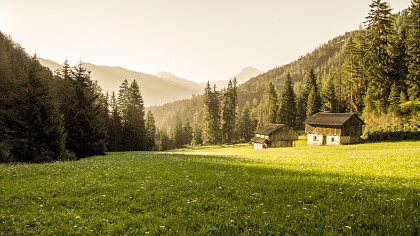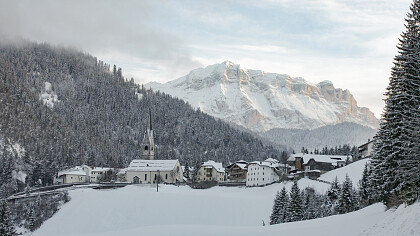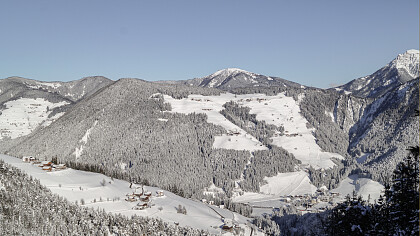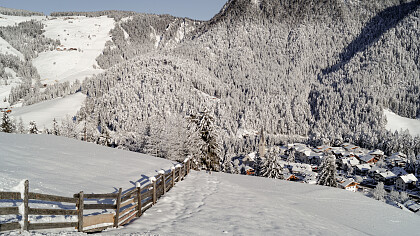 Request a free holiday quote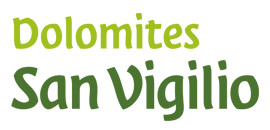 Do you want more info on events and activities for San Martino in Badia?
Tourist Office San Vigilio & San Martin Str. Catarina Lanz, 14
See opening hours Contact the LTA
Hotel San Martino in Badia
San Martino in Badia
The Tlisör farm a holiday, managed by the Chiusura family, is located in Lo...
---
starting from:
40€
night/person
Ladin holidays in San Martino in Badia
San Martino in Badia is located in the centre of Val Badia and is characterised by its spectacular mountains and medieval castle.
The castle, known as 'Ciastèl del Tor', was built in 1200 and houses the Ladin Museum, where you can learn about the life and traditions of the local population. For those interested in Ladin culture, San Martino also offers the Istitut Ladin Micurà de Rü, which has an extensive library, frequent cultural events and various projects for the study of the language and culture of this linguistic minority.
In addition, San Martino is a paradise for sports enthusiasts, starting with downhill skiing in the Plan de Corones and Alta Badia/Sellaronda ski areas, both easily accessible without a car. There are also activities such as cross-country skiing on the Passo delle Erbe, ski touring on the Puez, tobogganing and snowshoeing. From spring to autumn, the surrounding nature offers a spectacle of colours with colourful mountain flowers, autumn forests and breathtaking sunsets, which can be explored on walks, hikes or mountain bike tours.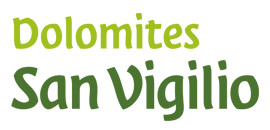 Tourist Office San Vigilio & San Martin
San Vigilio di Marebbe: nature and ladin friendliness
Relaxation, sports and activities for the whole family, all in one holiday. In San Vigilio di Marebbe you get it!
From classic winter sports like Alpine and cross-country skiing or snowboarding, to more extreme ones like ski mountaineering and the Adrenaline X-Treme Adventures, or to activities for the whole family like sledding, winter walks, guided snowshoeing tours and horse-drawn sleigh rides: San Vigilio offers you all this and more, right here, in the heart of the Dolomites, and welcomes you with its warm Ladin hospitality and its ancient traditions.
Request catalog
Summer activities in San Vigilio - San Martin
Discover the many activities of San Vigilio & San Martin, set like jewels in the heart of the Dolomites, a UNESCO World Natural Heritage Site, gateway to South Tyrol's Fanes-Senes-Braies and Puez-Odle Nature Parks and integral parts of the renowned Plan de Corones vacation area.
Request catalog
Nature parks and cultural activities
The San Vigilio - San Martin area boasts two nature parks in the UNESCO World Heritage. The Puez-Odle and Fanes-Senes-Braies parks are immersed in a breathtaking Dolomite landscape and offer countless opportunities. The area also allows you to discover Ladin architecture and to visit lots of museums, castles and abbeys - why not try it?
Request catalog
Monday 08:00 - 12:00 | 14:30 - 18:30
Thursday 08:00 - 12:00 | 14:30 - 18:30
Wednesday 08:00 - 12:00 | 14:30 - 18:30
Thusday 08:00 - 12:00 | 14:30 - 18:30
Friday 08:00 - 12:00 | 14:30 - 18:30
Saturday 08:00 - 12:00 | 14:30 - 18:30
Sunday - | 16:00 - 18:00