Naturhotel Lüsnerhof
s
Luson
© Hannes Niederkofler
© Hannes Niederkofler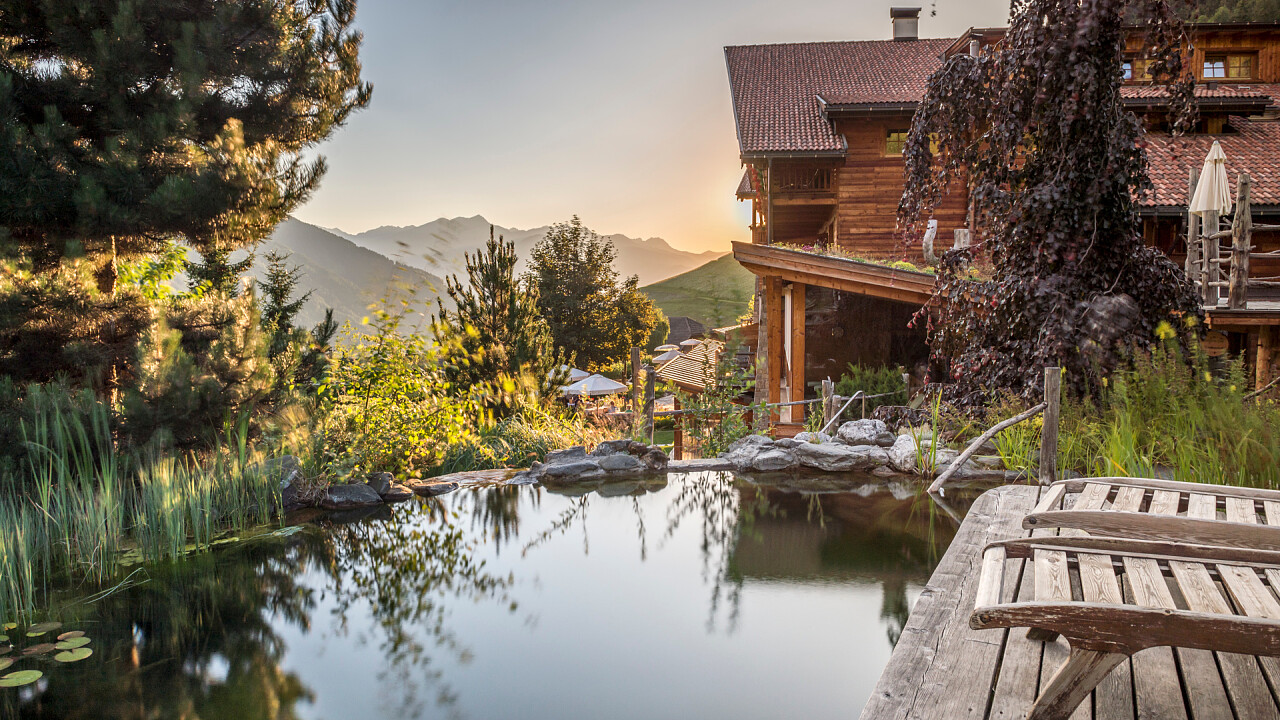 © Hannes Niederkofler
© Stefano Scatà
© Hannes Niederkofler
© Hannes Niederkofler
© Hannes Niederkofler
© Hannes Niederkofler
© Marco Santini
© Hannes Niederkofler
© Hannes Niederkofler
© Hannes Niederkofler
© Hannes Niederkofler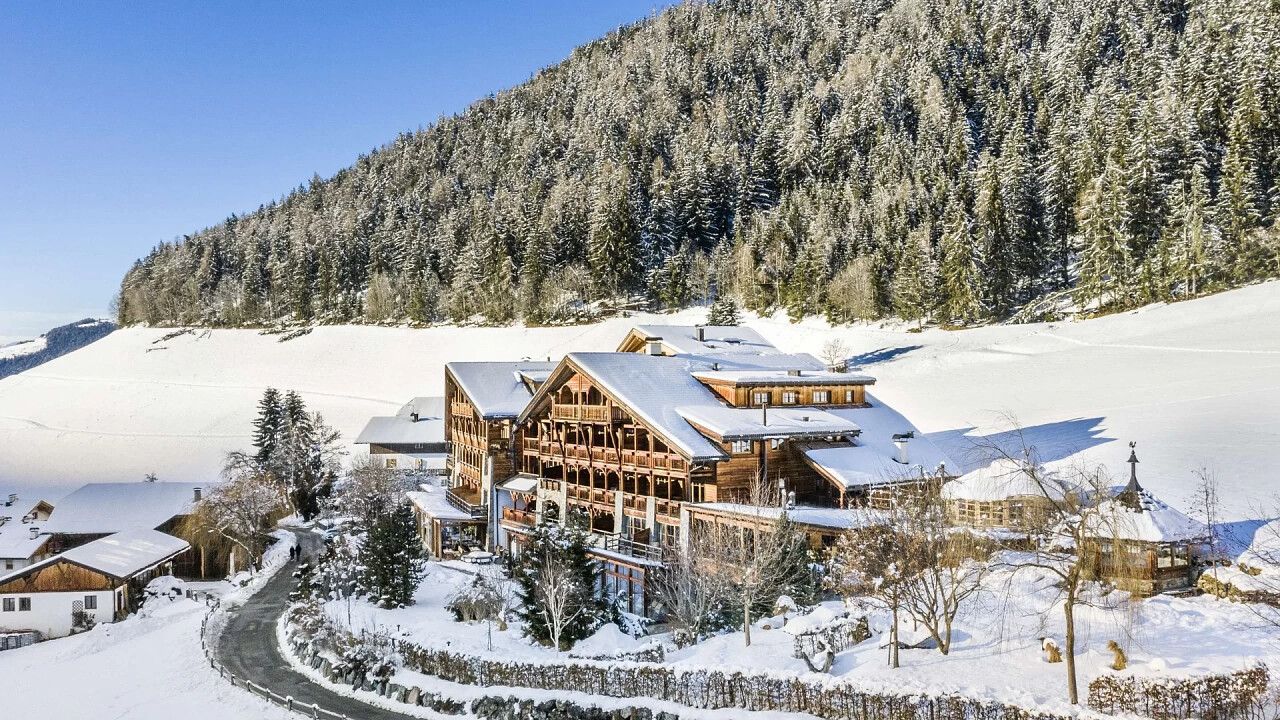 © Hannes Niederkofler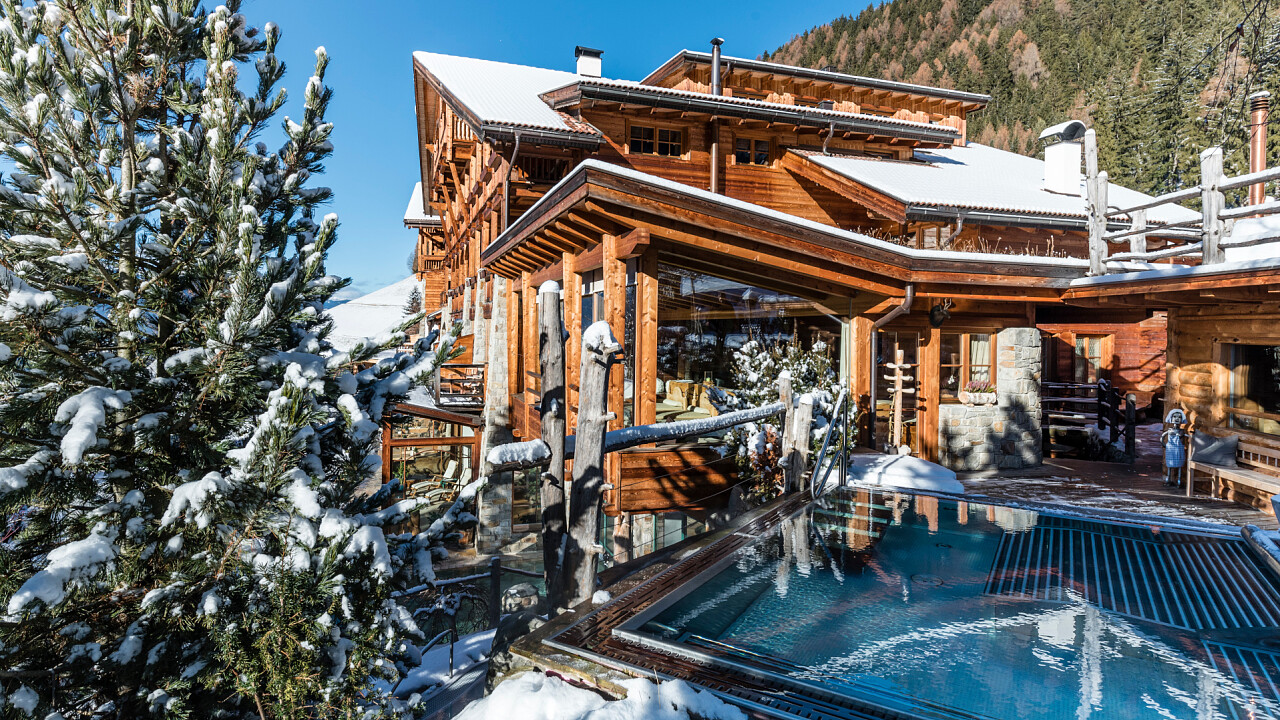 © Hannes Niederkofler
© Hannes Niederkofler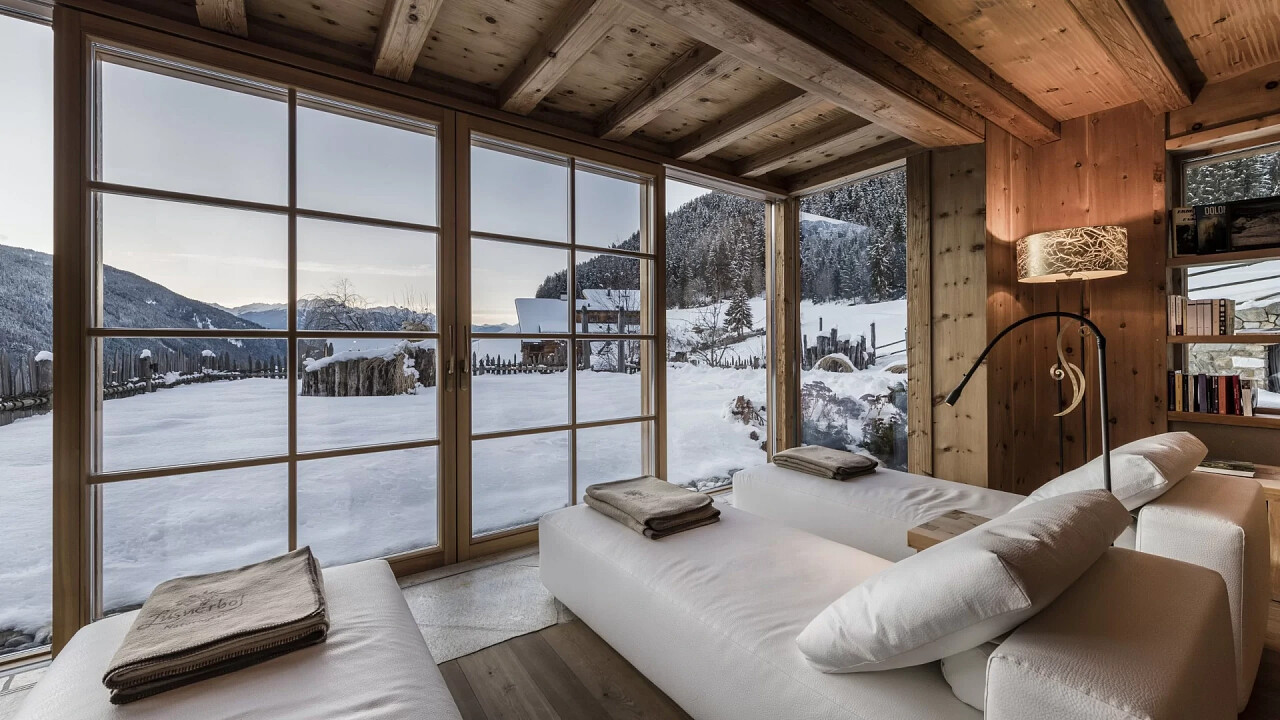 © Hannes Niederkofler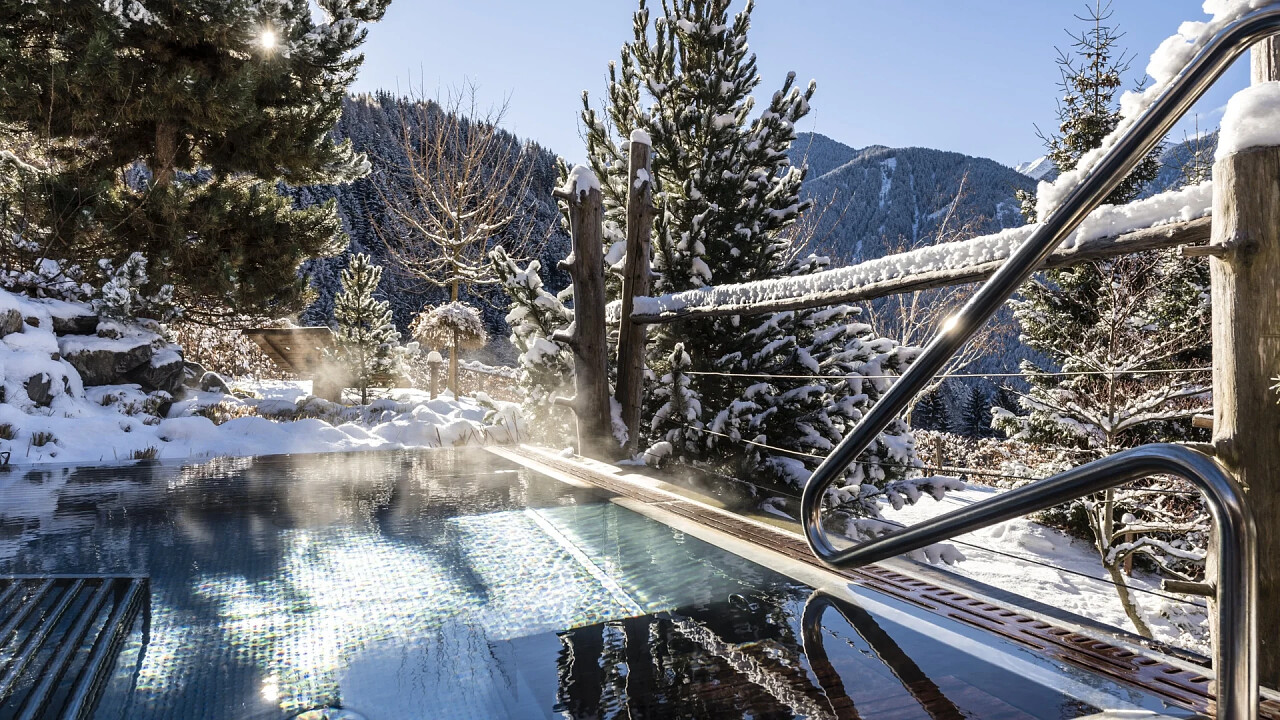 © Hannes Niederkofler
When do you want to stay in Naturhotel Lüsnerhof?
Rooms and suites
Select the rooms you prefer and use the availability request form to contact the property directly
Room Bio Lavanda
1 - 2 guests
Max 1 child
24 m²
Comfortable room with shower, toilet, panoramic view over the valley or over the woods towards the Luson Alp, a radio an... More info
starting from:
134€
night/person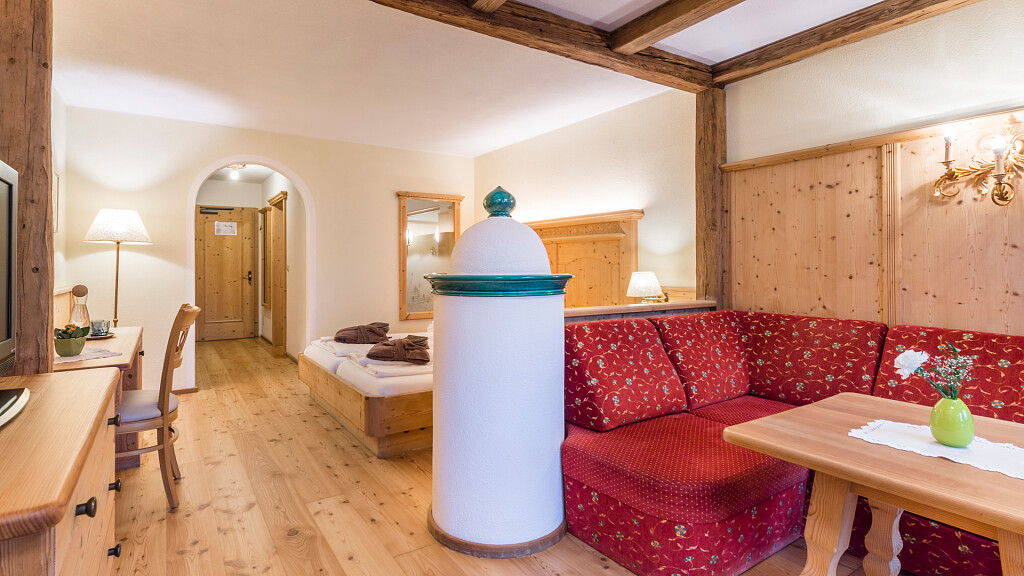 Bio Arnica Suite
2 - 4 guests
Max 3 children
40 m²
Suite with a large living area where you can enjoy pleasant moments in the corner sitting-room decorated with a traditio... More info
starting from:
147€
night/person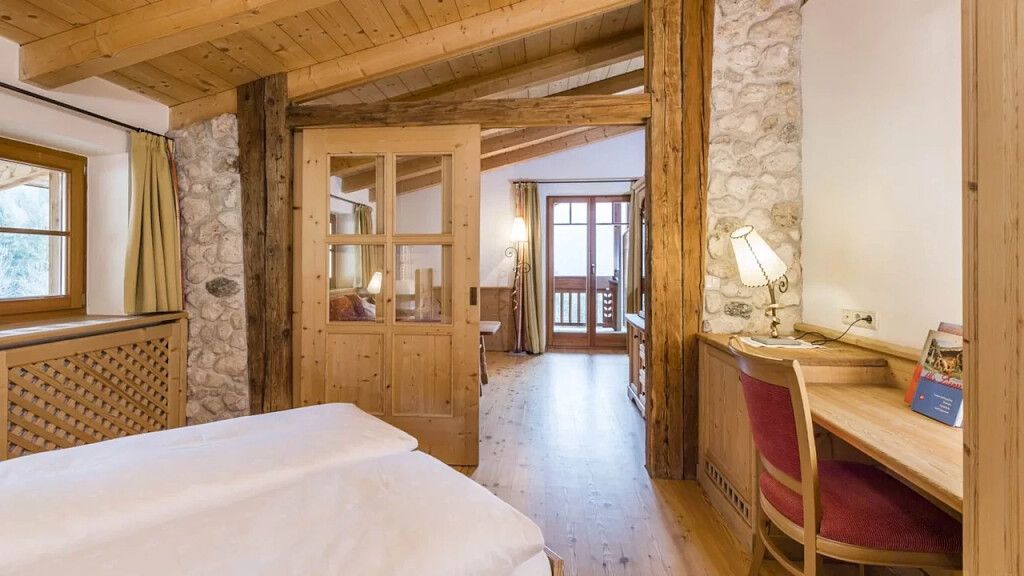 Bio Calendula Suite
2 - 4 guests
Max 3 children
46 m²
Cosy suite with separate living area with a traditional stove or fireplace that creates a warm atmosphere. The marble ba... More info
starting from:
149€
night/person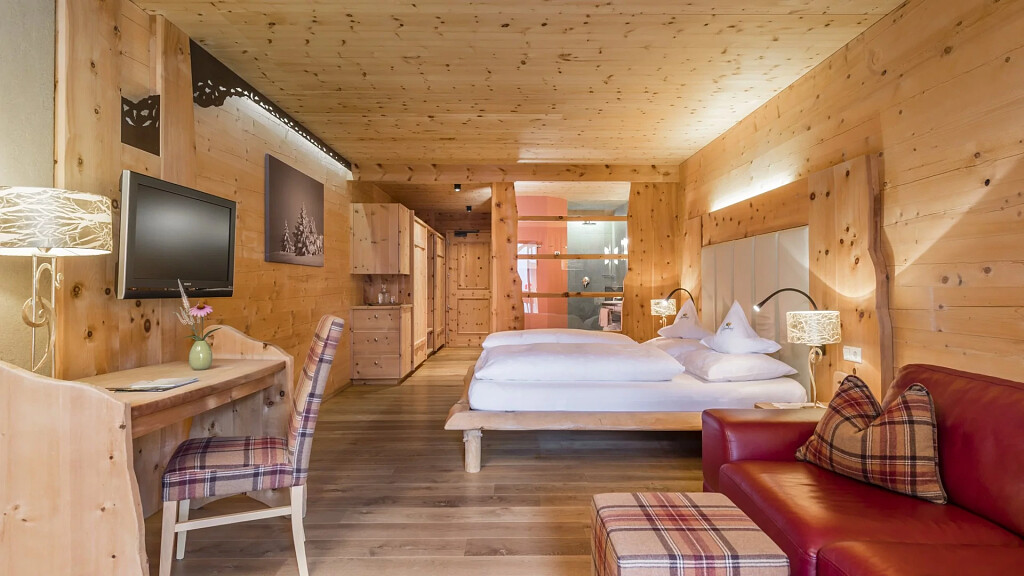 Stone Pine Suite
2 - 3 guests
Max 2 children
44 m²
Modern suite in stone pine wood with a large living area where you can relax on the leather sofa in the seating corner.... More info
starting from:
163€
night/person
Romantic Suite Lüsnerhof
2 - 4 guests
Max 3 children
65 m²
Idyllic suite with living room, fireplace, marble bathroom with Jacuzzi, 1 bedroom, 1 bedroom for the kids and a stereo. More info
starting from:
184€
night/person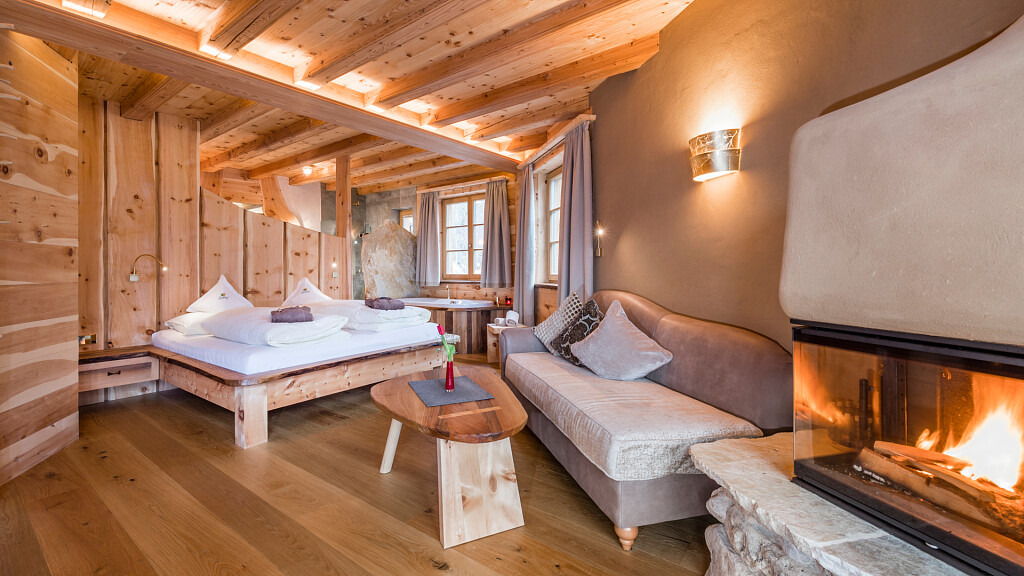 Wellness & Alpine baths suite
2 guests
Max 1 child
50 m²
Located in the two Alpine's Baths small houses. These suites, about 50 sqm large, are covered with stone pine wood and o... More info
starting from:
203€
night/person
Deals
Deal
Validity periods
From 29/05/2022 to 31/10/2022
Dolorama Hiking and Wellness Weeks
min. Guests: 1
Stay: 7 nights
From the Lüsner Alm to the Villnösser Geislern with overnight stays in huts and wellness at the Lüsnerhof.
The most beautiful peaks of the Dolomites, UNESCO World Heritage, always in view! The Dolorama Trail leads in four stages from the Lüsner Alm to Vilnöss - an unforgettable nature, mountain and hiking experience in the valley of paths.
Stay 2 to 3 nights in the mountain huts and then enjoy 4 or 5 days of wellness and hiking in the Naturhotel Lüsnerhof. The hikes lead via the Lüsner Alm to the Kreuzwiesenalm, to the Maurerbergalm and to the Schlütterhütte. On the last day we recommend the trail from the Schütterhütte to the Adolf Munkel way with descent to St. Magdalener in Villnöss. Return to Lüsen by public bus.
Deal
Validity periods
From 13/04/2022 to 06/11/2022
Honeymoon package
min. Guests: 1 Stay: 5 nights
Spend the most important holiday at the Lüsnerhof. Go on unforgettable hikes in our Dolomite landscape and let yourself be cuddled by qualified masseuses. Give yourself a holiday full of unforgettable moments.
Inclusive services
5 nights incl. Lüsnerhof's ¾ nature gourmet board
1 partner massage in the Alpine Bathhouse Quarzit
1 bathhouse ritual with floating in the grotto
1 romantic candlelight dinner in our wine cellar
1 bottle of prosecco + homemade pralines in your room on arrival
Use of the Naturellness®Spa with 10 saunas, 3 whirlpools, indoor and outdoor pool, and natural bathing pond
Musical accompaniment with traditional music, piano music, harp music, or accordion music
Rich gym offer with yoga, Qigong, back exercises etc.
Deal
Validity periods
From 13/04/2022 to 06/11/2022
Romantic package
min. Guests: 1
Stay: 3 nights
Check-in: mon, tue, sun Check-out: wed, thu, fri
The NaturellnessSpa is the perfect place for romantic days. Time to find themeselves, to share moments, to laugh and to discover the unpolluted nature of our oasis. We pamper you with a bottle of Prosecco, homemade pralines and a romantic dinner. During the romantic bath in the salt cave you will experience an unforgettable experience that will stimulate all the senses.
3 nights with ¾ wellness board
1 Prosecco bottle and homemade pralines
Romantic dinner on Tuesday
Guided theme excursions and activity programm
Free access to NaturellnessSpa with 10 saunas, indoor swimming pool connected to the one outdoor, 3 jacuzzis, a pond suitable for swimming and romantic wellness treatment
1 Alpine baths ritual in the salt cave
Arrival from Sunday to Tuesday.
Deal
Validity periods
From 13/04/2022 to 06/11/2022
Naturellness week in the mountain
- 7 nights in Lüsnerhof with wellness ¾ board
- 10-11 guided excursions pro week (transfer included)
- Large gym programme
- 1 ritual of alpine baths with entrance to the salt cave
- Use of our NaturellnessSpa with 10 saunas, 3 jacuzzi and indoor and outdoor pools
- Music in the evening with pianobar, harp music and music of the house
- Wide gym programme with Yoga, Qi Gong, gym for the back and much more
Highlights
© Hannes Niederkofler
© Hannes Niederkofler
Alpine Wellness for care of the body and the soul
At Naturhotel Lüsnerhof, wellness has many facets
Revitalising baths
This water world is named after the healthy spring water from the Alpe di Luson, which supplies all the water worlds with water and has a beneficial and refreshing effect.
Sauna path
To experience new sensations divided into 3 levels.
- First level: bio sauna, with the scent of garden herbs or fir trees; alpine crystal grotto, filled with hay flowers; salt sauna; steam bath; shower grotto; Kneipp path; relaxation area in the winter garden and swimming pool with Jacuzzi to relieve tension.
- Second level: steam jets with peeling, next to the panoramic whirlpool. Connected to it is the panoramic relaxation area with fireplace and tea pavilion. Cooling in this second level takes place in the natural pond filled with spring water from the Alpe di Luson or in the rock shower outside.
- Third level: stream sauna with cooling down directly in the waterfall, in the pool and in the Kneipp course of the Gargitter stream.
Alpine bath house
A private spa with a salt grotto in Dolomite rock, pine steam bath and pampering attic. You can enjoy a romantic and intense experience in a romantic landscape. Built according to the principles of green building, this wonderful paradise is based on the therapeutic philosophy of the Ragginer dynasty of doctors.
Naturhotel Lüsnerhof
Naturhotel Lüsnerhof is a hiker-friendly hotel situated in a quiet position in Luson, in the Valle Isarco valley. This valley welcomes all those who love hiking, snowshoeing and cross-country skiing. Free shuttle service to the Plose ski area.
This hotel in Luson was built in wood and stone, according to the principles of bio architecture. It is surrounded by an unpolluted nature and offers cozy rooms and spacious bio suites provided with shower, WC, hairdryer, TV, radio, telephone, safe, and living area. Most of them with balcony.
Traditional, natural cuisine based on local organic products with hearty breakfast buffet, and 5-course dinner menu with local vegetables, cheese and meat. Bar, typical cellar with mineral stone facing.
The wellness area Lüsner Badl is connected with a small biotope. It features indoor and outdoor pools, 10 saunas, fitness room and meditation area, outdoor whirlpool, spacious relax area with fireplace, garden with pond and Kneipp therapy pool.
Massages and baths in the Alpine Baths private Spa with salt pool, tea room, Swiss stone pine steam bath, attic and wellness suite. The products used for the massages are created within the hotel.
Extensive entertainment program for adults and kids, wine tasting events. Miniclub, babysitting service and a many areas for children to play.
Residence Lusina and the new Residence Alma are also available for your holiday.
Accommodations and Conditions
Indoor parking

Parking

Motorcycle parking
Restaurant

Gluten free

Vegetarian
Pool

Spa

Sauna

Children's pool

Solarium

Steam bath

Salt grotto
Cross country skiing

5 km
Safe deposit box

Multilingual staff

Italian

English

German

French
Credit card

CartaSì

Euro/Mastercard

Maestro

Visa
¾ board
Half board with the addition of an afternoon buffet