Resia
© Vadym Lavra | Dreamstime
© Jojjik | Dreamstime
© Jojjik | Dreamstime
© Frieder Blickle | Associazione Turistica Passo Resia
© Olafhunck | Pixabay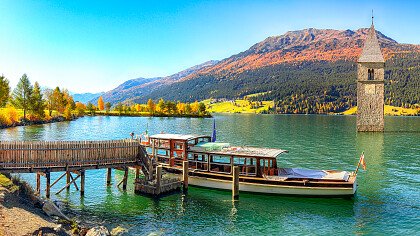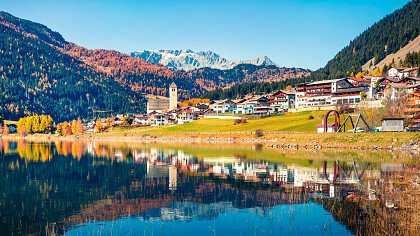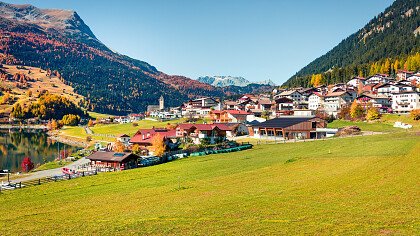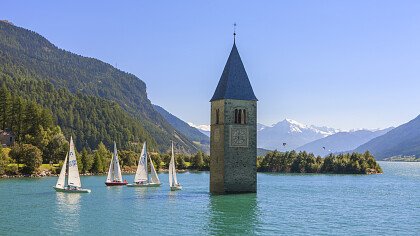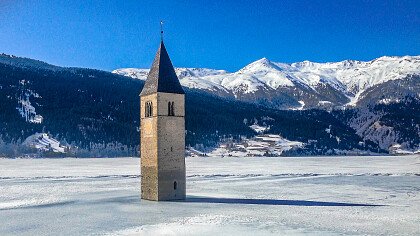 Request a free holiday quote
Hotel Resia
Holidays in Resia on the Resia Pass in Alta Val Venosta
Resia is a hamlet in the municipality of Curon Venosta, in the Upper Venosta Valley, 1 km from Austria and a few kilometers from Switzerland. At the foot of the homonymous pass that connects the Austrian Tyrol with Alto Adige, the town is known for its lake and the Romanesque bell tower submerged in the lake, a fairy-tale place with a dramatic history.
A sad story that of Resia which mostly sank into the artificial lake due to the construction of the dam in 1950, where hundreds of families from Curon and Resia lost their homes. The tragic past is documented in the Alta Val Venosta Museum through a very comprehensive photographic exhibition.
Worth mentioning are also the small church of S. Nicolò in Roia with frescoes from the 15th century, the sanctuary of Valliereck which dates back to the second half of the 19th century, the gothic church of S. Anna, from which you can enjoy a wonderful view of Lake Resia, and the historic fortifications of the Resia Pass border. Among the latter, it is worth visiting the bunker of Adige Spring #20 in Curon and the Pian dei Morti barrage.
Today Resia has become a much loved tourist destination for sportsmen, families, and couples and has a lot to offer in every season. In summer, choose between hiking, mountain biking, horseback riding, rafting, via ferrata, archery in the Talai forest, motorcycle tours, and Nordic Walking. On the other hand, Lake Resia is great for sailing, surfing, fishing, kitesurfing, pleasant boat trips, and relaxing sunbathing along the fitted beaches.
In winter, skiing is king in the three ski areas of Belpiano, Malga San Valentino, and Maseben. There is no shortage of activities such as cross-country skiing, snowshoeing, and sledding along the 2 km track of Resia and snow-kiting on the surface of Lake Resia.