Centro Cadore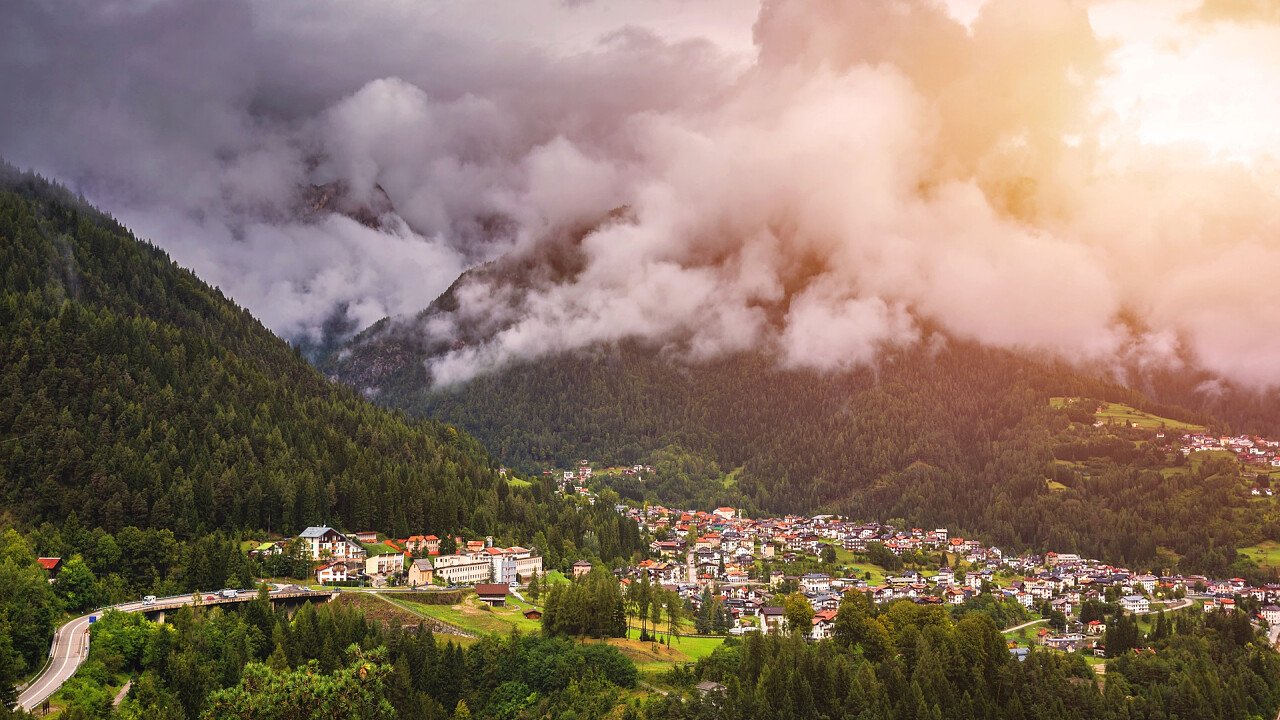 © Daliu80 | Dreamstime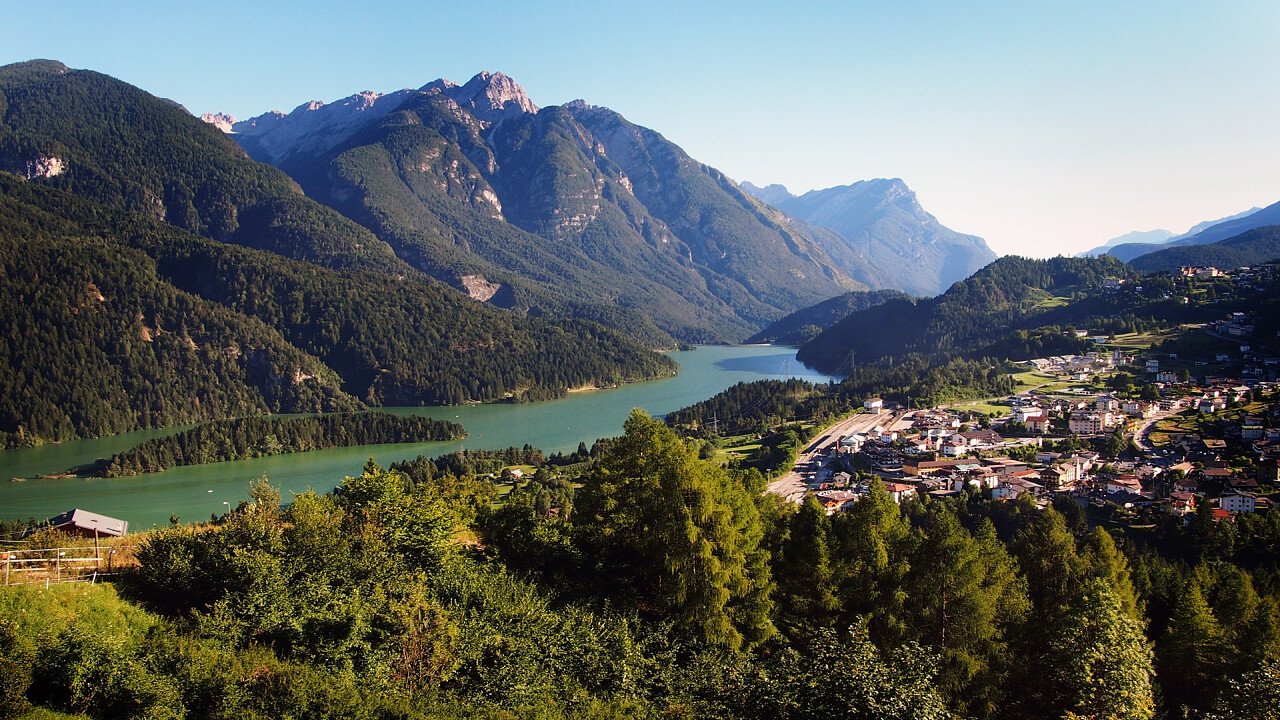 © Shutterstock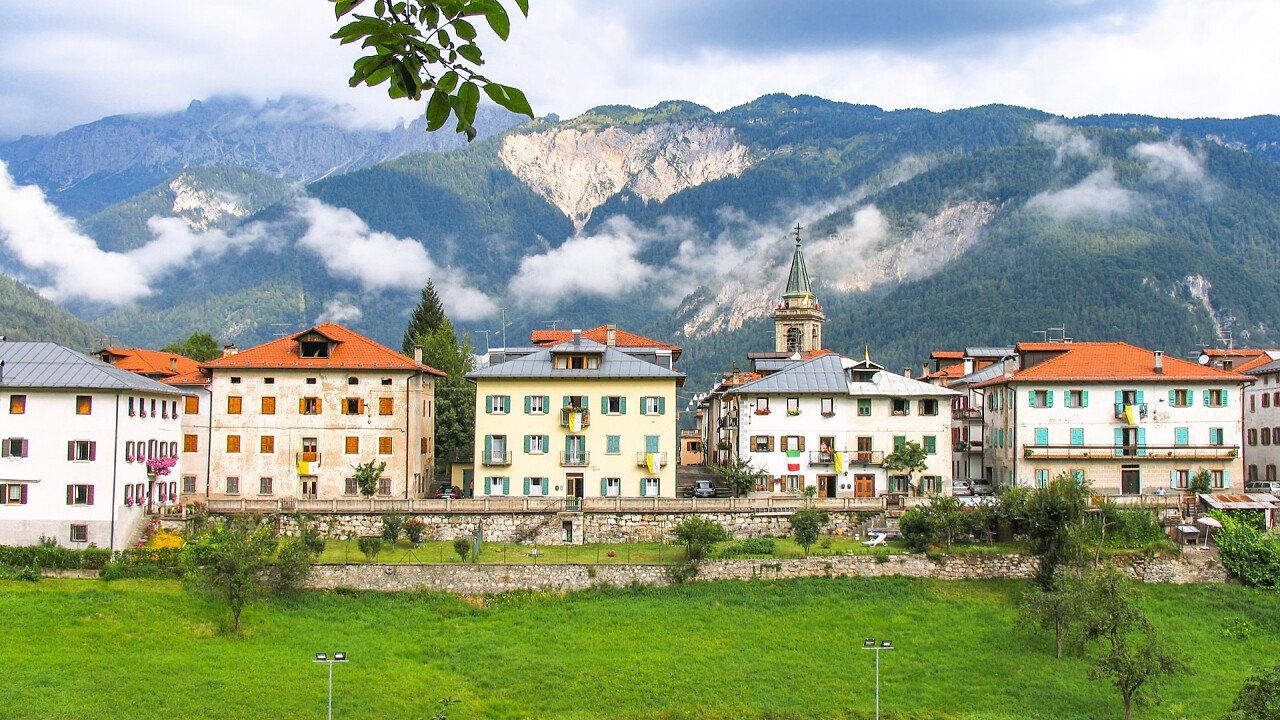 © Shutterstock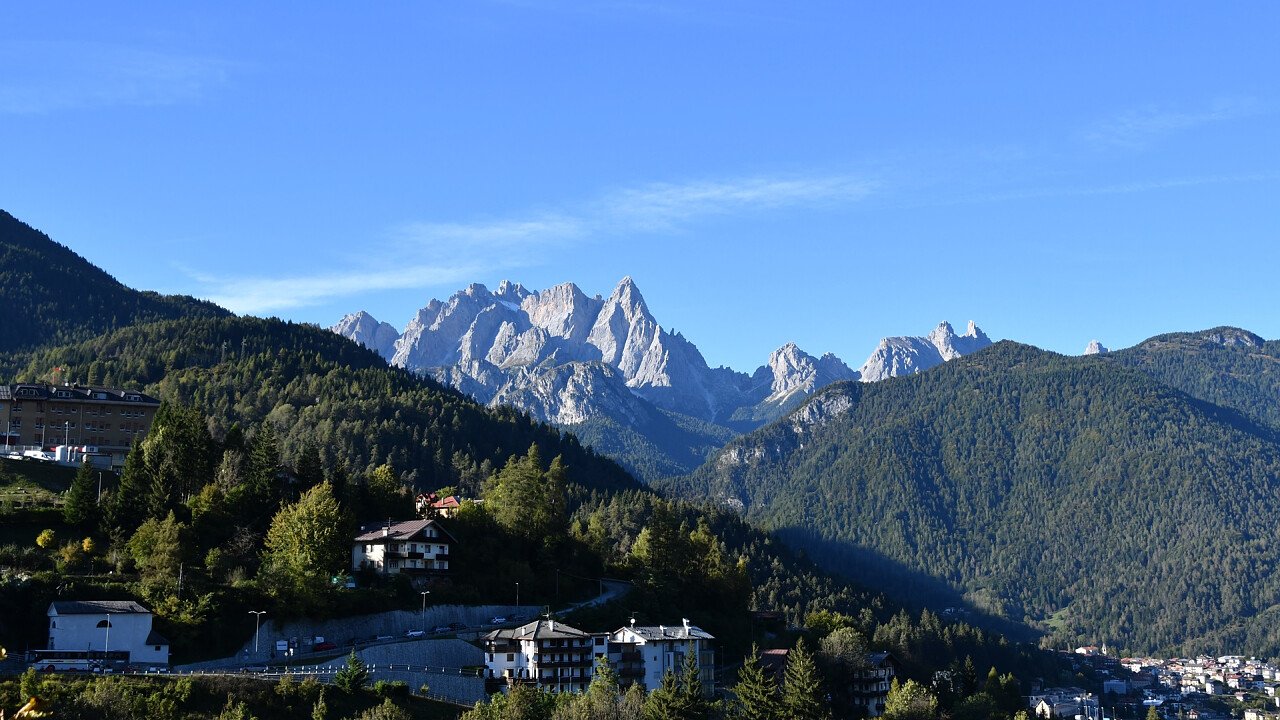 © Shutterstock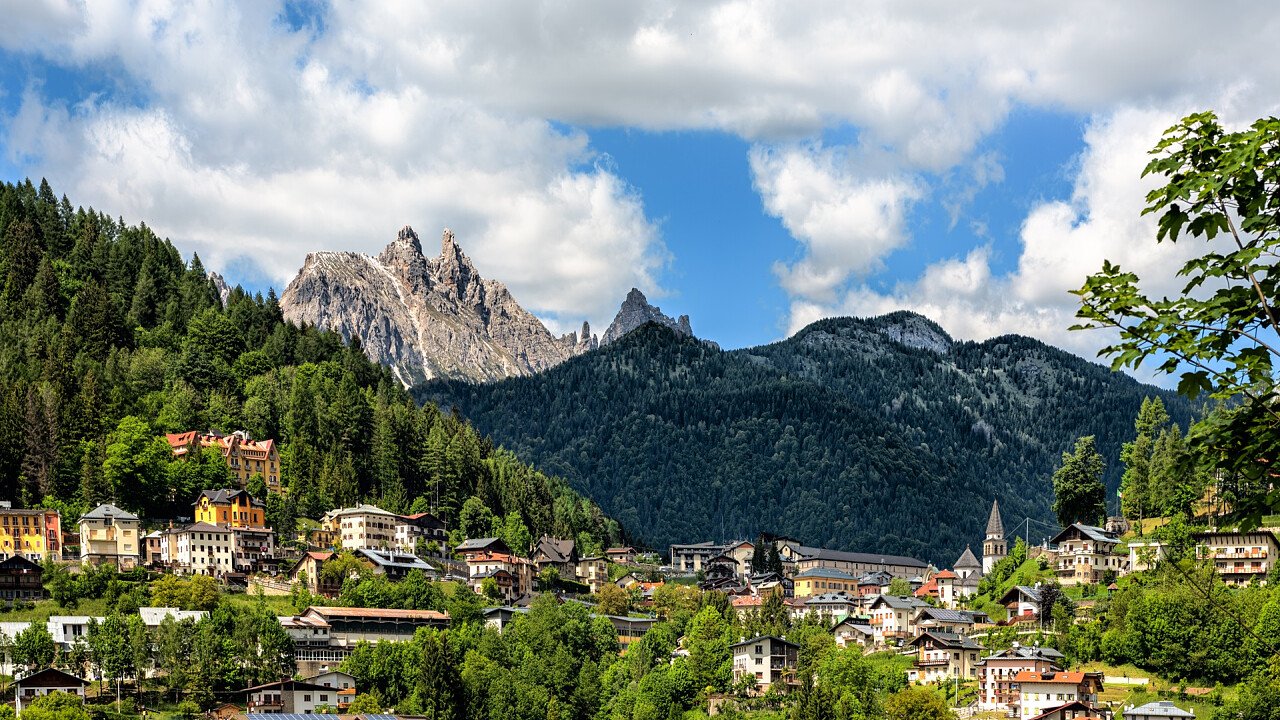 © iStock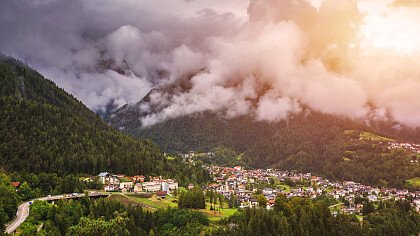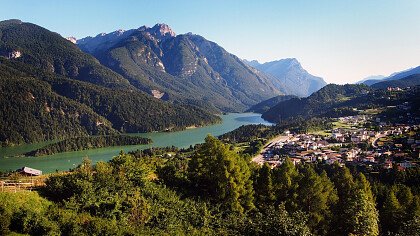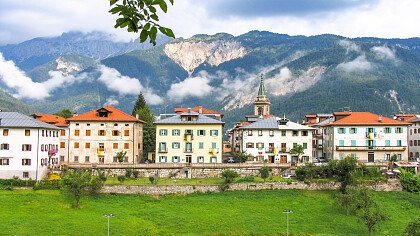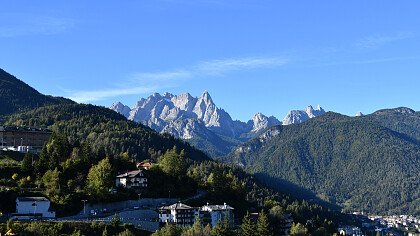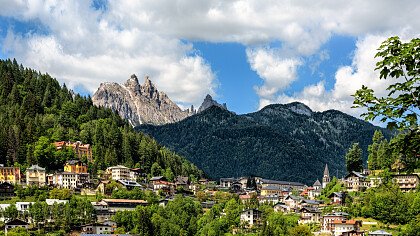 Request a free holiday quote
Hotel Centro Cadore
Borca di Cadore
The Corte delle Dolomiti Resort, including both Hotel Boite and Residence C...
---
starting from:
101€
night/person
Destinations: Centro Cadore
Centro Cadore: trekking and bicycle touring between nature and art
Your holiday in Cadore? Full of nature and culture! This area has cross-country skiing trails, many sport fishing areas and countless kilometers of hiking and bicycle trails along which you can discover fascinating places. A rich land where the painter Titian was born, and loved by Pope John Paul II for its quietness and its landscapes. And you? What would you like to do?
In Centro Cadore, famous eyewear industry center, you can choose among many hiking trails through lush green valleys, along the streams crossing this area, or near the Centro Cadore Lake and lake Calalzo. These trails range from the easiest ones, suitable for hikers bringing along their children, to the most difficult ones for experienced hikers. In this valley there are many hamlets and villages where you can spend pleasant and relaxing moments: Vigo, Lozzo, Lorenzago, Domegge, Calalzo with its lake, Pieve, Valle, Ospitale and Perarolo, once an important river port for timber trade.
In Lorenzago di Cadore there is a trail named after Pope Wojtyla, who visited this valley seven times: the sentiero Papa Giovanni Paolo II (Pope John Paul II path)starts from Villa Mirabello, where the Pope used to stay during the holidays, and runs through beautiful woods.
Alla scoperta del Tiziano nella sua terra natale, il Cadore (Discovering Titian in his homeland, Cadore) is a driving and walking itinerary connecting Perarolo, Pieve, Calalzo, Domegge, Vigo and Auronzo, but there are many other arts and culture itineraries on the trails of this famous painter. On the sentiero botanico Tita Poa (Tita Poa botanical path) in Lozzo di Cadore you can admire many plant species, and observe birds in the birdwatching spots. Lozzo is the starting point of many trails and routes, and from here you can reach the Pian dei Buoi plateau, where you can admire and climb the Antelao mountain, the Marmarole group, and the Piccole Dolomiti group. From Laggio you can reach Casera Razzo, a picnic area and a starting point of hiking trails that run between Cadore and Carnia. The municipalities of Pieve, Domegge, Lozzo and Lorenzago overlook the Centro Cadore Lake, where you can take lakeside walks, sunbathe and bathe, activities you can do on lake Calalzo too.
A place of interest for its natural value is the area of Valmontina in Perarolo di Cadore, one of the few wilderness areas of the Alps: a mountain environment still untouched and wild. If you are an experienced hiker the Haute Routes n. 4 and n. 5 and the Traversata del Centro Cadore, starting from Auronzo and passing through Caralte and Perarolo di Cadore, are the ideal trails for you.
If you prefer cycling you should try the "Lunga Via delle Dolomiti", a cycle path starting in Calalzo, passing through Cortina and ending in Dobbiaco, or the cycle route going from Cadore to Comelico, a difficult route suitable for bicycle tours on racing bicycles.
The Centro Cadore is a land rich in history and culture: Pieve is the birthplace of the great painter Titian, who left many works of art in the churches and in some other buildings of this area. Here you find also Titian's house, a national monument, and other important buildings, like the Palazzo della Magnifica Comunità, a legal entity formed by the 22 municipalities of Cadore to preserve the identity and the environmental resources of this area. In Pieve you can also visit the Archaeological Museum and the Eye-Glass Museum. Many are the driving and walking itineraries on the trails of Titian. In Lozzo di Cadore there is la Via dei Mulini (the Mills Trail), running along the Rin stream. Many factories used its waters for wheat grinding, wool weaving, iron and wood manufacturing, and today you can still see three mills, the wood wheel of one of them still functioning.
Other places worth visiting are the library Biblioteca Storica Cadorina in Vigo; the dairy museum Museo della Latteria in Lozzo; the Costa hamlet in Valle, rising on the Augusta Altinate, an ancient Roman road; the hamlets of Grea in Domegge and Rizzios in Calalzo, with their old stone and wood houses; and the archaeological site and hot springs of Lagole in Calalzo: in pre Roman age it was believed that these hot springs had healing properties.
Cross-country skiing and other sports
This area, with the Piave River, the Boite stream, its many other smaller streams and its lakes, is the ideal place for sport fishing. The villages don't lack in sports facilities: tennis courts, bocce courts, a shooting range, a trim trail, a climbing wall, football fields, a swimming pool and ice rinks.
In winter you can practice cross-country skiing in Pieve, Domegge, Vigo, on the beautiful Marmarole trail of the Pian dei Buoi plateau in Lozzo, on the Mauria Pass in Lorenzago, and in Laggio, near Casera Razzo, that has also lift facilities.
Cadore cuisine
The Cadore cuisine is made with the simple products of farming. You can try traditional dishes, like the pestariei seasoned with milk and butter; the panada, made with stale bread and water, gnocchi, pork meat with wild herbs like radicio da pra (dandelion), radicchio (a leaf chicory) and wild asparagus. Among the desserts you can try the zope (fritters), or the peta, made with corn flour, dried figs and raisins.