Novella
© Depositphoto
© dreamstime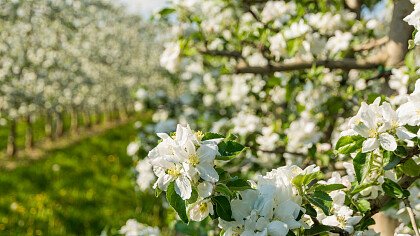 Request a free holiday quote
Holidays in Novella among the canyons of the Val di Non
The Trentino municipality of Novella, which includes the villages of Brez, Cagnò, Cloz, Revò, and Romallo, is the perfect home base for a holiday of sport and culture in Val di Non.
The town is known above all for the Novella River Park, a nature trail that winds for about 3.5 km through canyons and woods. A beautiful excursion suitable for everyone with metal walkways, waterfalls, and water obstacles. Those wanting to admire the gorges of the Novella stream from a different perspective, can try their hand at kayaking. But the fun doesn't end here! Those looking for a rush of adrenaline and real adventure can go canyoning in Castelfondo. Inside the park you can admire two old Cloz mills, the Pozzena power plant, the limestone (an ancient furnace), and the hermitage of San Biagio.
Novella is also an excellent starting point for a trip to the Sanctuary of San Romedio (about 10 km away), one of the most evocative places of worship in Trentino consisting of five superimposed churches, all built on a spur of rock and joined together by a staircase of 131 steps.
For golfers, the 18-hole Dolomiti Golf Club is only 10 km away from Novella.
The panorama that stands out around the Lake of Santa Giustina between Novella and Cles is very suggestive, which, despite its nature as a hydroelectric basin, offers relaxation and walks in the large green area on the southwest shore, reachable from the state road via the dirt road at the crossroads for Coredo.