© Associazione Turistica Laion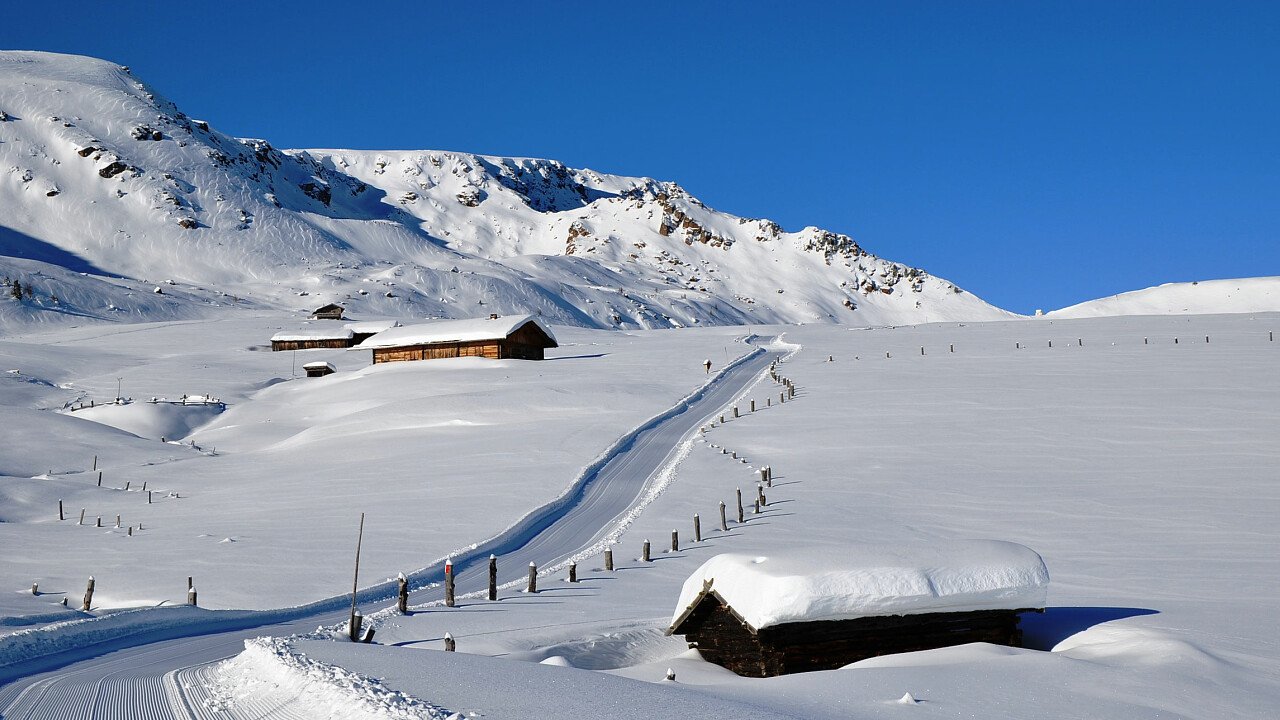 © Hotel Sambergerhof
In Val D'Isarco 294 km of perfectly kept cross country tracks develop; all tracks lie in a panoramic position and the snow is guaranteed!
The Alta Val di Vizze has become in the last years the preferred goal for the lovers of cross country skiing. Here are at disposition about 25 km of tracks that alternate in meadows and woods. In Alta Val d'Isarco it is possible to ski on a total length of 70 km.
Between Laion and Colle Isarco there are about 20 tracks among which the lowest is the Vandoies a 760 m while the highest is at 2000 m at Passo delle Erbe. One should try the "Silbertalloipe", 22 km long, that from Colle Isarco leads to S. Antonio, fit for beginners as well as for expert. The itinerary can be divided into 5 kilometers of average difficulty and 17 easy kilometers.
The Ridanna Valley is a broad valley that seems created on purpose for cross country skiing (20 km). At disposition 2 classic tracks and one for skating. In the Racines Valley you cannot miss the really beautiful 10 km long cross country track that from Racines (1200 m) leads to Vallettina (1482 m). The route includes a classic ring which is partially easy and of average difficulty. Another route leads to Mareta (1070 m) starting from Casateia (980 m) and passing by Stanghe (1020 m). Along the tracks you can find various refreshment points.
In the area of Vipiteno-Montecavallo a fantastic 6 km long cross country track is present at high altitude.
At Valles/Jochtal a cross country track runs on the whole valley floor, while in Racines/Giovo the tracks are well kept and numerous paths furrow the white landscape.
Ski runs in detail:
VIPITENO/STERZING
Val di Vizze/Pfitschtal circuit starting from Caminata/Kematen (1.400 m), 20 km
Circuit starting from Caminata/Kematen (1.400 m), 5 km
COLLE ISARCO/GOSSENSASS
Silbertal track starting from Ladurns (1.150 m), 9 km
Erl circuit at S. Antonio/St. Anton-Val di Fleres/Pflerschtal (1.250 m), 5 km
RACINES/RATSCHINGS
Circuit between Ridanna/Ridnaun (1.350 m) and Masseria/Maiern, 20 km -
Cross-country track from Racines di Dentro/Innerratschings (1.350 m) to Flading, 12 km
High cross-country track panoramic track Platschjoch, 16 km
RIO DI PUSTERIA/MÜHLBACH-VALLES/VALS
Valles circuit close to the Jochtal valley station (1.350 m), 7 km
MARANZA/MERANSEN/VANDOIES-FUNDRES/VINTL-PFUNDERERTAL
Cross-country track "Lobenweg" to the Bacher refuge 8 km from the Altafossa/Altfasstal parking area
Fundres circuit 3 km
RODENGO/RODENECK
Cross country track at the Rodengo Alps starting from Zumis parking area (1.725 m), 15 km
BRESSANONE/BRIXEN
Plancios/Palmschoß-Passo Erbe/Würzjoch Pass starting from the
Schnatzengraben parking area (1.600 m), 8 km
LUSON/LÜSEN
Circuit at the Luson/Lüsner Alps starting from the Tulper Gampis parking area (1.800 m), 7,5 km
Petschied circuit at Luson di Dentro/Hinterlüsen near the sports field (1.000m), 3 km illuminated on Wednesday from 7 p.m. to 10 p.m.
LAION/LAJEN
Circuit starting at Förstner (1.000 m), 6 km
VILLANDRO/VILLANDERS
Circuit at the Villanderer Alm/Alpe di Villandro starting from Gasserhütte (1.750 m), 2,5 km
LAION/LAJEN
Circuit starting at Förstner (1.000 m), 6 km
VILLANDRO/VILLANDERS
Circuit at the Villanderer Alm/Alpe di Villandro starting from Gasserhütte (1.750 m), 2,5 km
VAL DI FUNES/Villnösser Tal valley
Passo delle Erbe/Würzjoch track starting at Croce Russis/Russis Kreuz, 18 Km
Zannes/Zanser circuit starting at Zannes/Zanser pasture, 4 km
Cross-country centre Passo delle Erbe/Würzjoch, 7 km