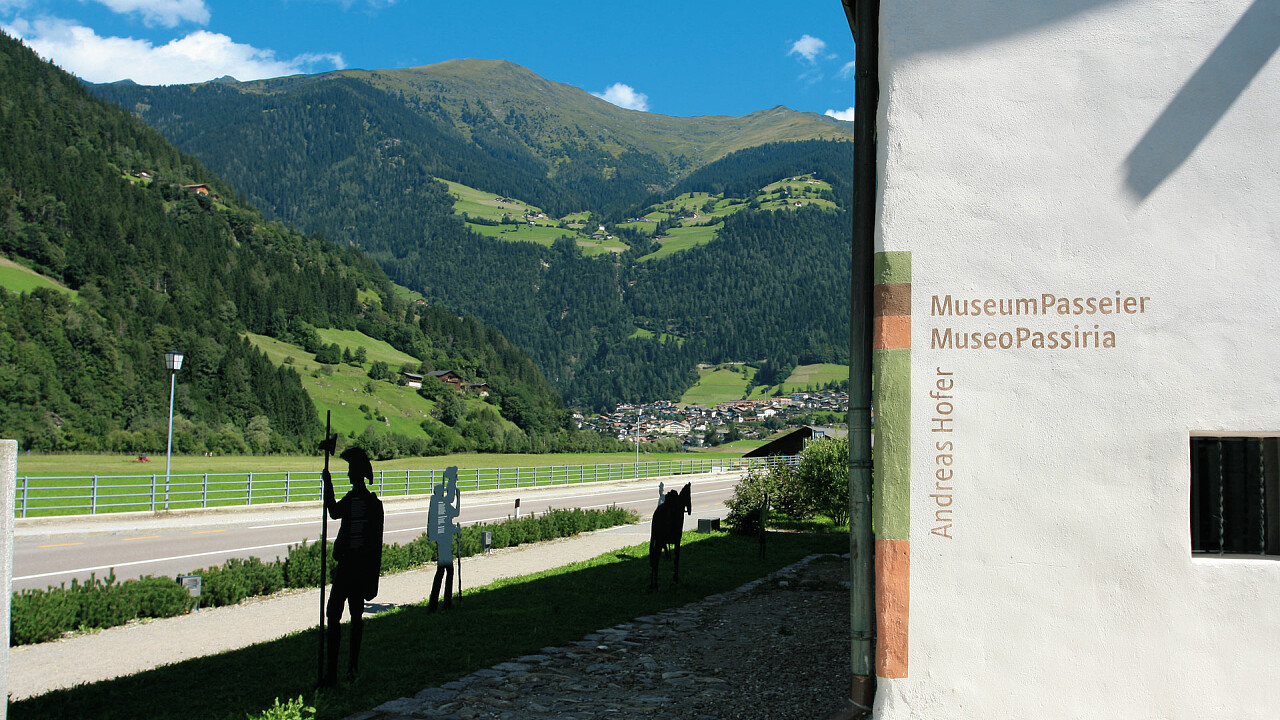 © Val Passiria Tourist Office
The Museum Passiria - Andreas Hofer is located in San Leonardo in Passiria. It is housed in the Sandhof, the birthplace of Andreas Hofer, a historical figure, patriot of Tyrol and key figure in Tyrol's war of rebellion against Bavaria in 1809. The museum houses a series of permanent exhibitions and has a large outdoor museum area.
The Passiria-Andreas Hofer Museum focuses on two main themes: the Tyrolean uprising and Andreas Hofer, the commander of the rebel troops. The Andreas Hofer Museum in the Sandhof on the road to the Passo Giovo houses temporary exhibitions and two permanent exhibitions.
The first permanent exhibition, 'Heroes & Hofer', illustrates the events that took place two centuries ago and highlights the figure of the heroes and that of Hofer, who, despite his failure, became a hero. It explains how the Tyrolean uprising against Napoleon came about and how heroes are born. The exhibition covers 500 square metres, in which Hofer's life up to his death is narrated, including a film about him.
The second, "Heroes & Us", is set up in the barn and, taking its cue from two questions - "why do we need heroes?" and "who are today's heroes?" -, pays tribute to a series of heroes from the past and present. -it pays tribute to a series of real and imaginary heroes, such as Nelson Mandela or Superman, presented through 6 light cones. Objects belonging to contemporary heroes such as the Dalai Lama's prayer mill or the skis used by Hermann Maier at the 1998 Nagano Olympics are also on display.
The museum area of the Passeier-Andreas Hofer Museum is also open-air and consists of a series of buildings built in the period between the 16th and 19th centuries, such as the typical Passeier farmstead. Films are shown to illustrate the rural life of the past, and it is possible to listen to the music of the valley or admire the Haflinger horses.
The Chapel of the Sacred Heart, the Church of the Holy Sepulchre, the French Cemetery, Giovo Castle and the Alpine Museum complete the museum tour.
Opening hours
15 March to 31 October 2022
Tuesday - Sunday from 10 a.m. to 6 p.m. (last entry at 5 p.m.)
Prices
Adults: € 8
Adults living in South Tyrol, guests with TouristCard, ADAC members (with card) and over 60: € 7
Children from 6 to 14 years, schoolchildren, students, disabled people: € 4
Groups of 10 and more: € 5 per person
Family card with children up to 14 years: € 18
Free admission for guides and bus drivers for groups of more than 10 people.
Combined ticket: MuseumPassiria and Bunker Mooseum € 10
How to get there
The Passeier Museum is located on the SS 44 at St. Leonhard in Passeier, about 20 km north of Meran. It can also be reached via the Passo Giovo or the Passo del Rombo (open from June to October).
Information
Museum Passiria - Andreas Hofer
Via Passiria, 72 - San Leonardo in Passiria
tel. (+39) 0473 659086