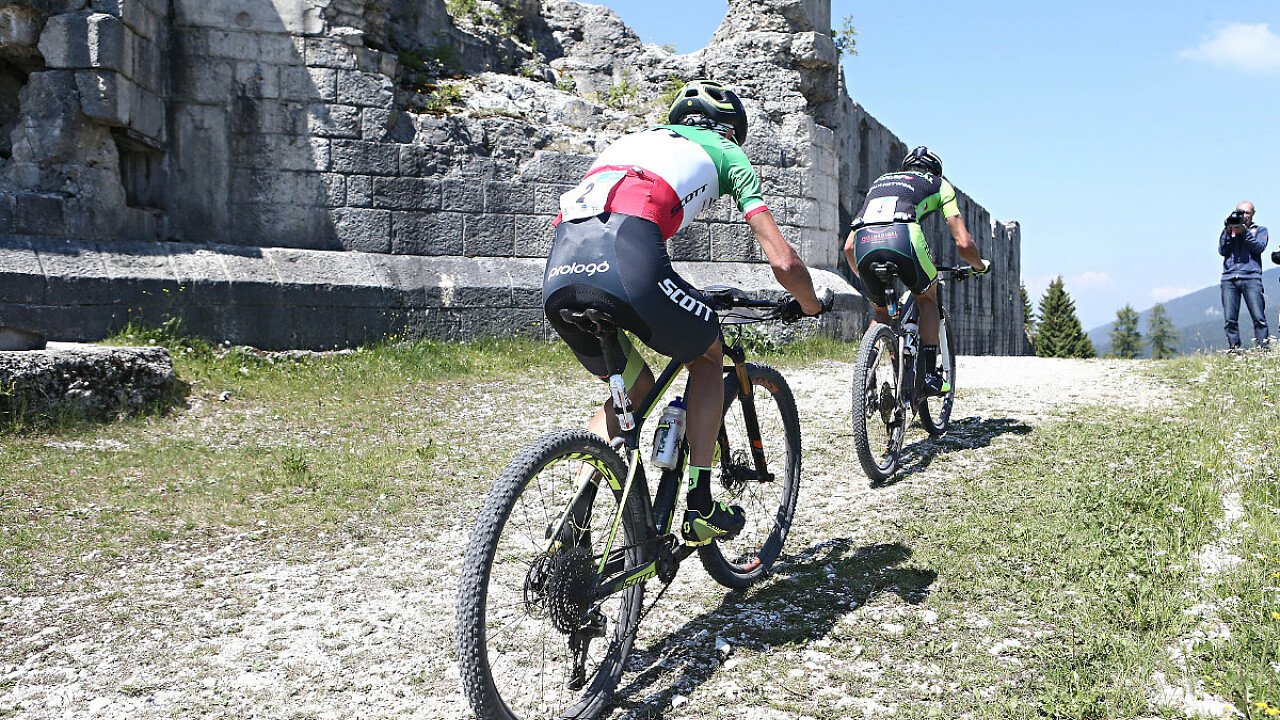 The route is no doubt quite complex and thus subdivided into four smaller areas.
TO VALBONA PASS
The route starts from Sommo Pass(1336 m heigh). Taking the former military road which rises along the ridge-line of Sommo, one reaches Rifugio Stella d'Italia and Rifugio Forte Sommo Alto (1579 m - 4.3 km). One gets then to Coe Pass (1614 m - 7.2 km) and continues towards Valle Campiluzzi (valley). Along this leg of the trip one encounters the following Alpine huts: malga Campoluzzo Superiore (1482 m - 10 km), malga Campoluzzo di Mezzo (1401 m - 11.5 km), malga Campoluzzo Inferiore (1348 m - 12.8 km) and malga Azzarom. After a tunnel (1275 m - 15 km) one reaches Rifugio Rumor.
TO SLAGHENAUFI MILITARY CEMETERY
Following the mountain ridge, one gets to the enchanting Lanze Valley and, cycling further, to the Fiorentini main road. The latter leads to Malga Seconde Poste (1437 m - 31 km). A short trail leads then to the former mountain huts Grimmen and Clama (1338 m and 1264 m respectively). Crossing stream Astico, one reaches, after a slope, the characterisic, inhabited Tezzeli (1244 m - km 38.5) and San Bastiano (1270 m - 38.5 km). After a short leg in the wood, the trail passes the hamlet Slaghenaufi (1245 m - 49 km) and leads towards the Lavarone Plateau.
TO THE VEZZANA - LUSERNA PLATEAU
After passing the military cemetery, one continues through the main road, which leads to Spiazzo Alto; one then enters the thick Seghetta wood (1225 m - 52.2 km) and cycles towards the area called Casa del Guardiaboschi ("the forester's house") (1336 m - 54 km) and towards Vezzena Pass (1414 m - 57.3 km). A large gravel road then leads to Busa del Biseletto, to malga Bisele di sopra and malga Bisele di sotto and, through a large steep slope, to Val Morta. From here, cycling towards "malga Campo", one reaches Lusern Fort (1515 m - 68 km) and, descending, malga Laghetto (1195 m - 75.2 km).A little further effort and...three quarters of the route are covered!
TO FOLGARIA (THROUGH LAVARONE)
After crossing the state road n. 349, going towards Cost Pass, one reaches Belvedere Fort (1180 m - 81 km) and, further, Masi di Sotto (82.5 km). Following the trail, which runs along the Lavarone lake, one gets to the inhabited centre Carbonare (1074 m - 89 km). Crossing stream Astico and Sper Bridge, one gets to the former malga Clama. A steep slope leads to malga Prima Posta (1425 m - 93.8 km) and to Cherle Fort (1444 m - 94 km). Here a descent starts that, through the Scala dell'Imperatore and the woody val Fredda leads back to Sommo Pass.