© Angela Pierdonà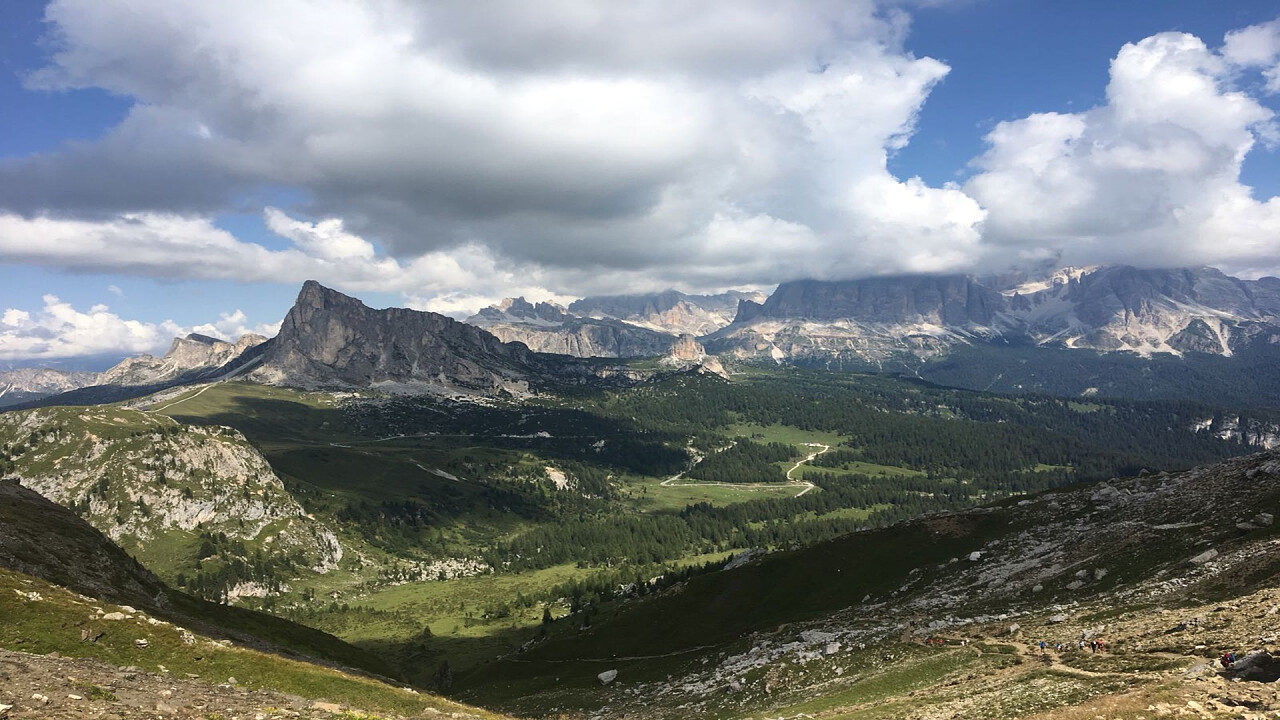 © Angela Pierdonà
The Croda da Lago, together with Mount Pelmo, constitutes zone 1 of the Dolomites UNESCO World Heritage Site. It is located in the Ampezzo Dolomites, between Cortina and San Vito di Cadore, in the province of Belluno. The Croda da Lago is an imposing mountain massif, consisting of several jagged peaks divided into two subgroups, at the foot of which is a characteristic Dolomite lake, Fedèra lake and the Croda da Lago - Gianni Palmieri Hut.
The Croda da Lago (2701 m), together with the Becco del Mezzodì, the Lastoi de Formin and the Rocchette, closes the Ampezzo basin to the south. It is enclosed to the north by Passo Giau and Falzarego, to the west by Valle Codalunga, and to the south by Val Fiorentina, and is divided into two sub-groups: Croda da Lago, with the peaks Ambrizzola (2715 m), Monte Formin, Becco di Mezzodì and the Rocchette di Prendera, Ruoibes and Soraru; and Monte Cernera with Torre Dusso, Col Piombin, Cima Losciesuoi and the peaks of Verdal.
At the foot of the east face of the Croda da Lago, there is Fedèra lake, also called Lago da Lago, whose name derives from fèda (sheep) to recall the ancient pasture in the vicinity. Next to the lake is the Croda da Lago - Gianni Palmieri Hut.
Croda da Lago: how to get there
The Croda da Lago can be reached with a beautiful hike starting from Ponte di Rucurto on the Giau Pass or, although longer, starting from Forcella Giau and passing through Alpe di Mondeval. In summer, its slopes are the destination of numerous hikes that end at the Croda da Lago - Gianni Palmieri Refuge, which is also a stop on Alpine Path of the Dolomites n.1.
There are several starting points to reach the hut: from Campo di Sotto, from Peziè de Parù after Pocol, from Ajal lake and from the Città di Fiume hut.
The Croda da Lago and the Becco del Mezzodì are also frequented by mountaineers for their numerous climbing routes.
Croda da Lago ring
This 6-hour hike is well known and popular for its environmental diversity and beautiful scenery and is relatively easy.
The route starts at Ponte di Rucurto, taking path 434 until you reach the small Cason de Formin. Then continue along the Val de Formin until you reach the homonymous pass along trail marker 435. From here, keeping to the left, you will reach Forcella Ambrizzola and, descending along path 434, Rifugio Croda da Lago with its beautiful Lake Federa. Continuing along the same path, go round the northern edge of the Croda da Lago massif to rejoin the path you had previously taken at Cason de Formin.
Interesting facts about the Croda da Lago
The ashes of the Belluno writer and journalist Dino Buzzati were scattered on the Croda da Lago.