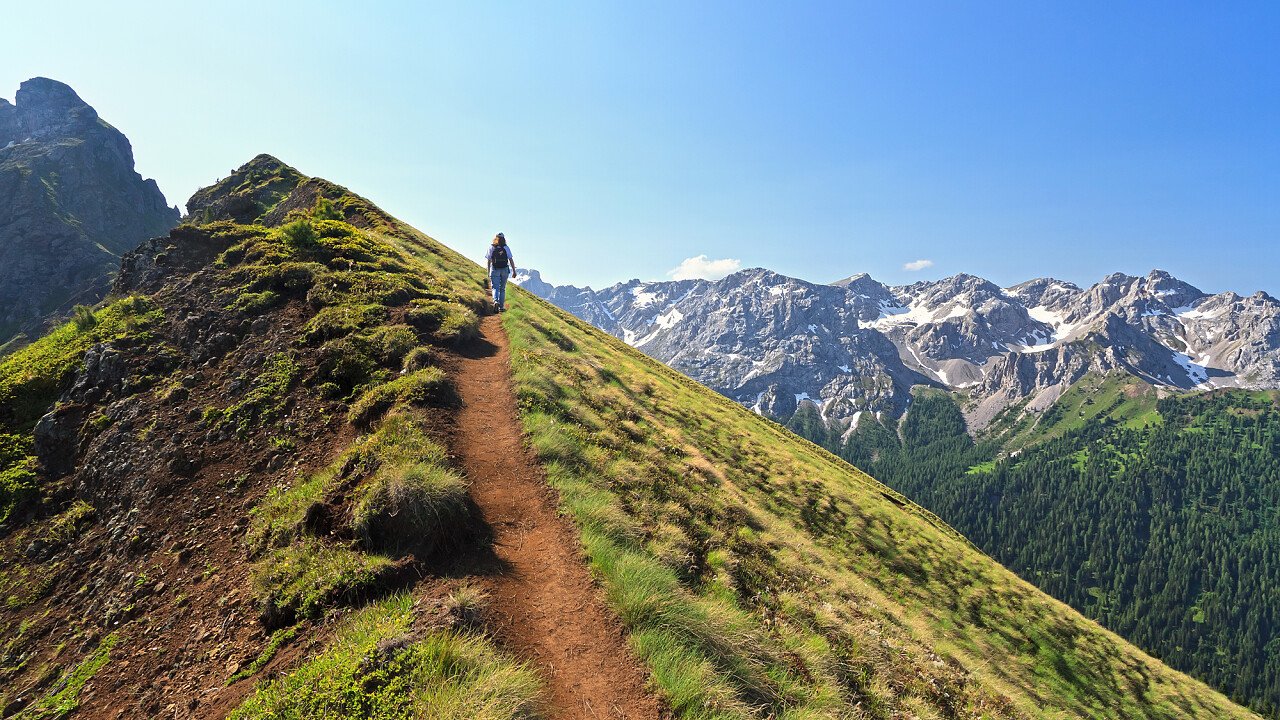 Starting-point: parking Garner Wetterkreuz (1410 mt.)
At a glance: Garner Wetterkreuz - Monte del Pascolo/Königsangerspitze - Rifugio L. Rodella/Radlseehütte - Bruggerschupfe - parking/Garner Wetterkreuz
Highest point: top of Monte del Pascolo/Königsangerspitze (2436 mt.)
Altitude difference: 1026 m
Difficulty: three climbing-boots hike

Useful advice: the hike is easy, but a certain attitude to mountain walks, along with climbing-boots, is required. When some prehistoric finds were discovered here, the tops of Monte del Pascolo/Königsangerspitze were classified as archaeological area: probably it has been a sacrifice zone. Rifugio L. Rodella/Radlseehütte is almost 100 years old and stands nearby the homonymous and mysterious lake. It offers great services along with good cooking and a splendid view.
Itinerary description: we go to Velturno/Feldthurns by car and then we proceed towards the mountain village of Caerna/Garn and the Garner Wetterkreuz, where we leave the car in the parking (1410 mt.). Now we follow footpath number 10 to go up to the Monte di Caerna/Garnerberg.
Across the wood and the fields we go on till the upper tree-lined border, over the "Munschegg-Steigg" and we arrive at the slopes with footpath number 8 (about 2230 mt.). Then we go up to Monte del Pascolo/Königsangerspitze covering a not-signalled path (about 2346 mt.; 3 hours far from the Garner Wetterkreuz). This last stretch is not signalled but we walk our way till the top's cross. From this top we reach Rifugio L. Rodella/Radlseehütte going eastwards on a medium steep path (number 7), discovering also the homonymous lake right at its side.
We enjoy the splendid view and then we begin to go back. Descending, we cross the lake by covering south-eastwards the footpath number 8/10. Now we stop at the refreshment location "Bruggerschupfe" (2000 mt.) to have a little break. Later we return to the Garner Wetterkreuz.
Alternative itinerary: go to Kühhof (1587 mt.; parking) and proceed on a commercial road (number 17) till Rifugio Chiusa/Klausner Hütte (1920 mt.; refreshment), then use footpath number 5/7 to go to the Monte del Pascolo/Königsangerspitze.
Maps: Freytag & Berndt, sheet S 1 (Bolzano/Bozen - Merano/Meran and outskirts); Kompass, sheet 56 (Bressanone/Brixen).