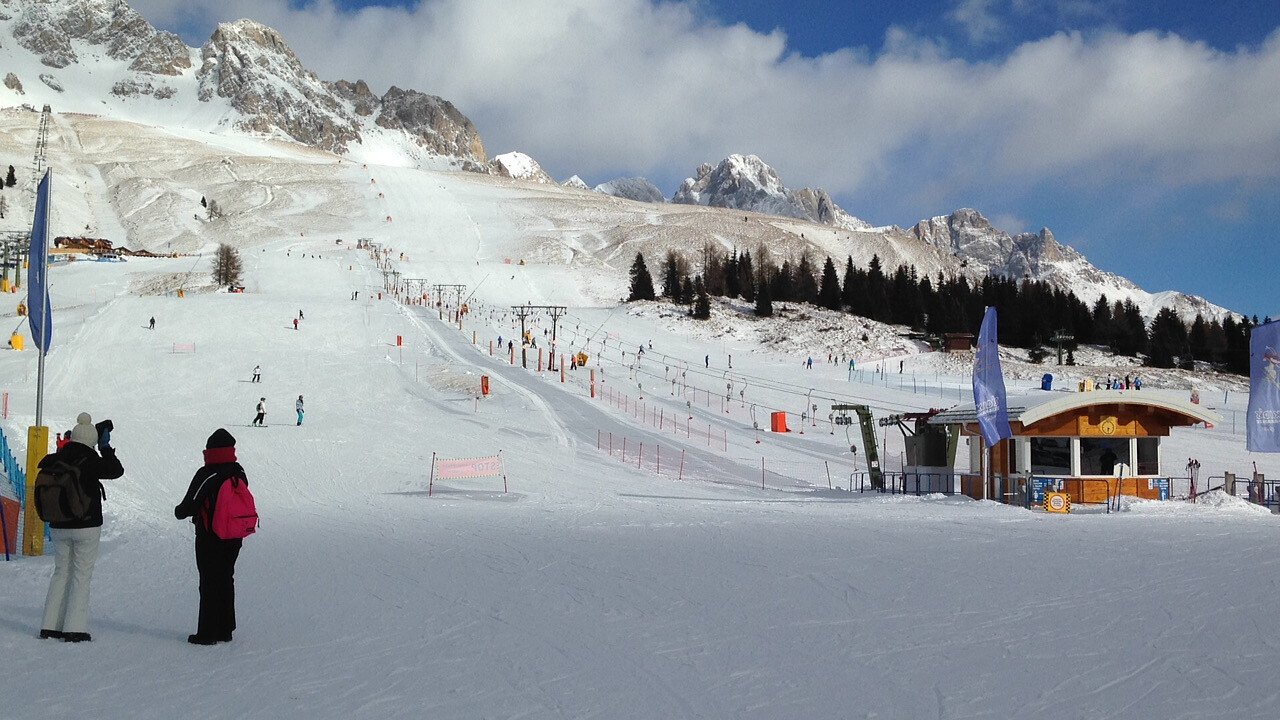 © G.F. – Dolomiti.it
The ski area of Falcade is appreciated from the lovers of cross-country who can train in different rings that start directly from the town center and ventures into the wood, beyond the Biois torrent. Other cross-country slopes are located in Passo San Pellegrino and Canale d'Agordo.
In the centre of Falcade instead, there is the Centro Fondo Pietro Scola with 8 km of tracks for all levels that also provides night skiing. You can choose from various routes, from the ski school slope where novices can learn basic techniques from expert instructors, to the Biois torrent to take on the impressive inclines of the most difficult slope "Brostolade" 7,5 km long. The slopes are open from Dicember to Marz. Facilties at disposal: showers and dressing rooms, ski tuning service, lockers and assistance, ski equipment and snowshoe rentals, free parking, bar and ice skating.
At Passo San Pellegrino there is the Centro Fondo Alochet with runs organized in loops of varying difficulty, between altitudes of 1900 and 2500 meters, and length for a total of 18 km. The runs vary from the blue Alochet to the black Campo d'Orso of 12 km, which is used by the Italian National Cross Country Ski team for retreats and training. The red Masarè is the run most suited for everyone and every level of preparation, with a medium-difficult, up and down route with two significant but not too difficult downhill bits. Services are parking, restaurant, bar, play area, ski tuning service, snow shoes and Nordic Walking, cross country ski and equipment rentals.
In Canale d'Agordo, cross-country Val Gares features other 5 km of rings at 165 difference in height, one is homologate for agonistic competitions. Facilities: showers and dressing rooms, ticket office, parking, ski equipment rentals and ski tuning service.