Andriano
© Luca Guadagnini | Azienda di soggiorno e turismo Bolzano
© Luca Guadagnini | Azienda di soggiorno e turismo Bolzano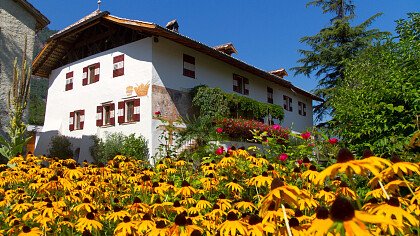 Andriano: sport holidays, wine tastings and culture
Andriano is situated in the bright valley of the Adige river, close to Terlano and to the high road that connects Bolzano to Merano. Its small center boasts several attractions for those who love to plunge into villages rich in South Tyrolean culture and architecture, in fact it is rich in castles, churches, but also in wine producing areas and old traditions. There are also a lot of outdoor activities you can choose to do on its territory, such as hiking and mountain biking along the popular cycle track of the Roman Road Claudia-Augusta, and you can also go for a swim at the village's outdoor pool.
Besides offering a glimpse of the original style of South Tyrolean constructions, Andriano allows also to plunge into the past, enjoying old medieval traditions and observing the imposing strongholds of Wolfsthurn Castle and the beautiful Festenstein fortress. Wolfsthurn Castle was erected in the thirteenth century by the lords of Andrian and gained its current name only in the fifteenth century, under the ownership of the family called "Wölfe of Mareit". The Festenstein Fortress, instead, is placed in the gorge of the valley called "Höllensteintal", and has become part of the territory of Appiano. Being private properties these constructions are closed to visitors but you can approach them thanks to steep paths that enter the forest which surrounds both erections. The village's center hides an interesting construction of the nineteenth century: the Parish Church of Saint Valentine, which, proved by some evidences, already existed in 1231 and has kept the original neo-gothic style.
The territory of Andriano presents an ideal soil for wine-making, especially for the growing of white grapes, that is why the village is surrounded by all these vineyards which welcome visitors with its enticing scents. Wine-making in this area has old origins, in fact it was just in Andriano where people gave birth to the first wine growers' cooperative of South Tyrol, in 1893. This cooperative is still in use and offers tastings of excellent wines which follow original recipes. A typical ingredient in local cuisine is asparagus, which grows just on this territory, it is cooked in many ways and goes very well with local wines.
Visitors will have a lot of outdoor sport activities to choose from: cycle tours on the popular cycle track of the Adige river, which is connected to the more demanding Claudia-Augusta Road that goes from Augsburg to Venice, swimming in the shade of the trees at the village's outdoor pool, suitable for adults and for kids, and walking tours in the nature, as the one that leads to Mount Mendola. At the beginning of spring one of the most important sport events of the area is held here: every year the cycle race organized on the first of May ends just in the center of Andriano.