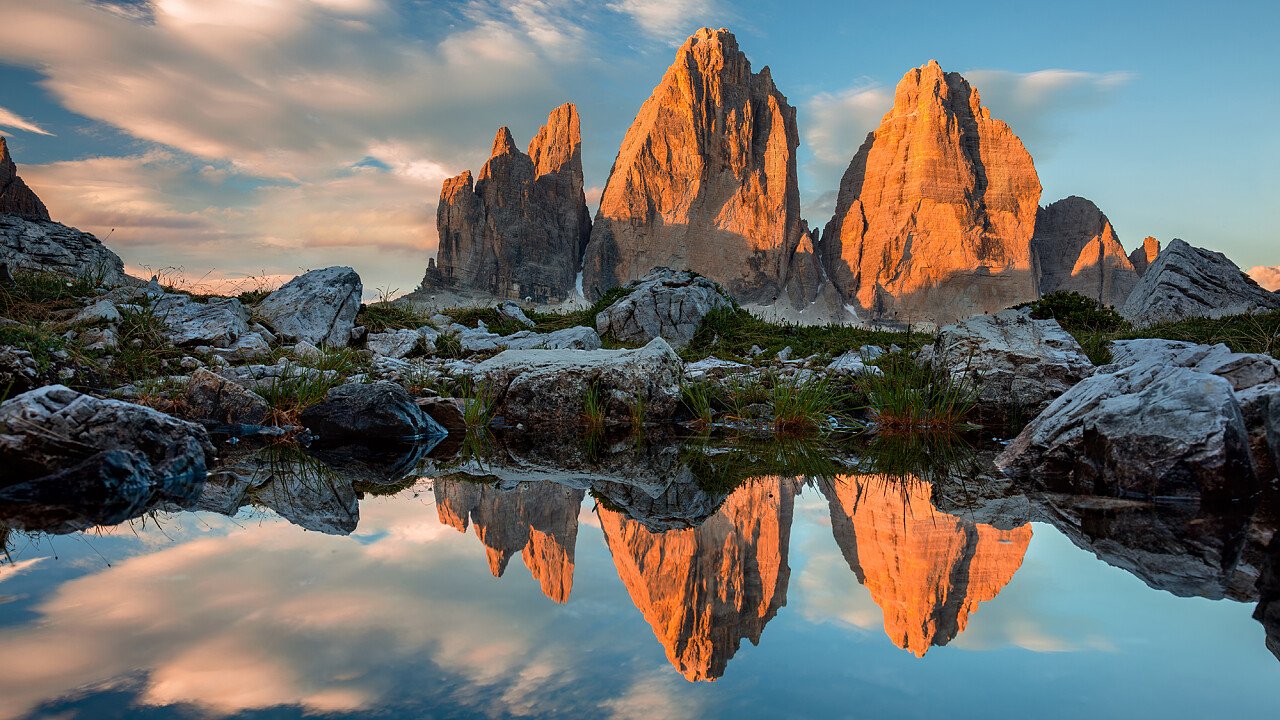 26th June 2009, unanimous agreement for the Dolomites
26th June 2009: the Dolomites, a paradise with an extraordinary landscape value, have been declared unanimously World Heritage Natural Site by the 21 members of UNESCO. Hundreds of aiguilles, pinnacles and peaks, celebrated for centuries by writers and poets, scientists and climbers, photographs and film directors, have been inserted in the World Heritage List because of their beauty, their uniqueness and their geomorphology.
An area including 5 provinces: Belluno, Trento, Bolzano, Pordenone and Udine, for totally 231 thousand hectares. In particular, they include the group formed by Pelmo and Croda da Lago, located in Veneto, among the areas of Cadore, Zoldano and Ampezzano; the Marmolada massive, the most important glacier, lying between Trentino and Veneto; the group formed by the Pale di San Martino, Pale di San Lucano and Dolomiti Bellunesi, lying for the most part in Veneto, but also in Trentino; the group formed by the Friulian Dolomites and beyond the Piave river, the most eastern, divided between the Friulian provinces of Pordenone and Udine; the Northern Dolomites, located between South Tyrol and Veneto and formed by the jagged Cadini, the white Dolomites of Sesto, the austere Ampezzo Dolomites, the lunar Dolomites of Fanes, Senes and Braies; the Puez-Odle group, lying entirely in South Tyrol, a wonderful natural park; the group formed by Sciliar, Catinaccio and Latemar, between South Tyrol and Trentino; the Brenta Dolomites, the most western, lying entirely in Trentino; and the Rio delle Foglie, an extraordinary and unique canyon.
The Dolomites are joining the only other Italian site which had already obtained this prestigious award: the Aeolian Islands. This way Italy has become the world country with the biggest number of sites protected by the UNESCO, 44, waiting for the commission's decision about the 40 other new candidatures.
This important event was desired and promoted by institutions and administrations, but also by the people living and working in the area, who did and will do a lot in order to protect this wonderful environment.
This is not the arrival, but rather the start of a process leading to an evolution of the value of Dolomites, involving all the most important aspects: natural beauties, development, sustainable and responsible tourism, accommodations, services, gastronomy, cultural, social and linguistic traditions, so that everybody can appreciate totally, with responsibility and respect, this natural creation.
Now there is one more reason to visit them!