© Depositphotos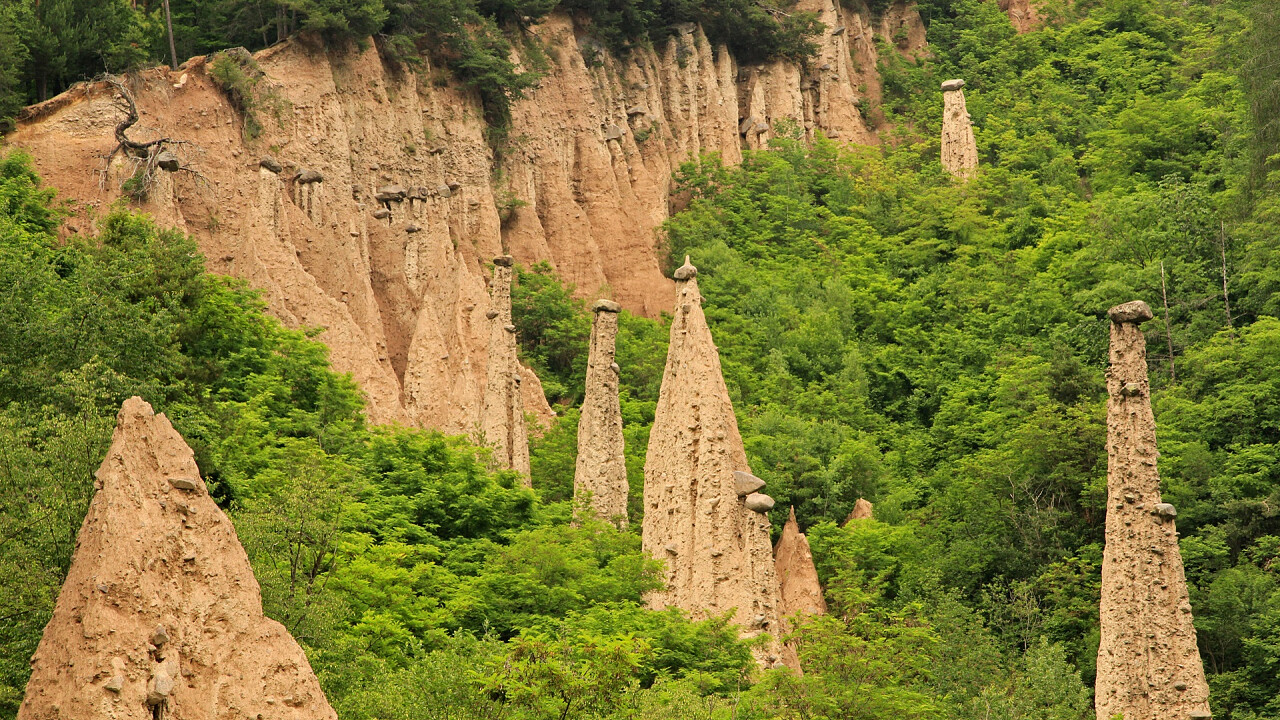 © Shutterstock
The Pyramids of Segonzano or Earth Pyramids rise in the municipality of Segonzano, in the Valle di Cembra valley, along the bed of the Alvisio stream. The pyramids are a geologic phenomenon unique in the whole Trentino region: rows of earth columns reaching 20 meters of height, almost all capped by a porphyry rock. These works of art created by nature attract scientists and tourists from all over the world. Paying a ticket you can visit them all year round by following the trail that leads you through the site.
The earth sculptures of Trentino: the Pyramids of Segonzano
The Pyramids of Segonzano are a work of art forged by elements about 50 thousand years ago, when glacial sedimentation was eroded by the combined action of running water, rain and wind, thus creating these impossibly balanced natural pinnacles.
The Pyramids of Segonzano have a gold yellow color and rise together like organ pipes. These cone-shaped natural sculptures topped by a rock resemble giants with fancy hairstyles and are called by locals omeni da tera (earth men).
The site features different types of pyramids: spiked pyramids, without the caprock, or ridged pyramids, with the typical jagged profile.
At the feet of the pyramids grows a thick bed of moss, leaves and roots slowing down water erosion.
The legend of the pyramids
At certain times of the day, when illuminated by a soft light, the group of pyramids resembles a fairy castle. According to the legend, elves living in the forests of the valley were turned into rock columns as punishment for their carelessness, thus creating these groups of earth pyramids.
How to get there:
From Baselga di Pinè: take the SP83, direction Trento, and after about 3-4 km turn right at the junction of Segonzano
From Brusago di Pinè take the road to Valcava at the left of the church and go on until you reach the junction with the SP71. From here follow directions to Segonzano
From Trento go east and enter the Fersina valley towards Civezzano-Cavalese. At the junction of Pergine turn in the direction of Civezzano and follow directions to Segonzano
Infos and tickets:
From 25 April to 30 September (in the remaining period the visit is free)
Full price: € 3,00
Reduced price: € 2,00 (groups of at least 20 paying visitors; adults over 65 years old)
Reduced price for young people and school groups: € 1,00 (school groups; children from 6 to 14 years old)
Free of charge: residents of the Municipality of Segonzano; children up to the age of 6; disabled people; accompanying school groups/tourist guides and local guides; Guest Card holders.
For further information
Comune di Segonzano tel. (+39) 0461 686103
A.p.T. Piné Cembra tel. (+39) 0461 683110