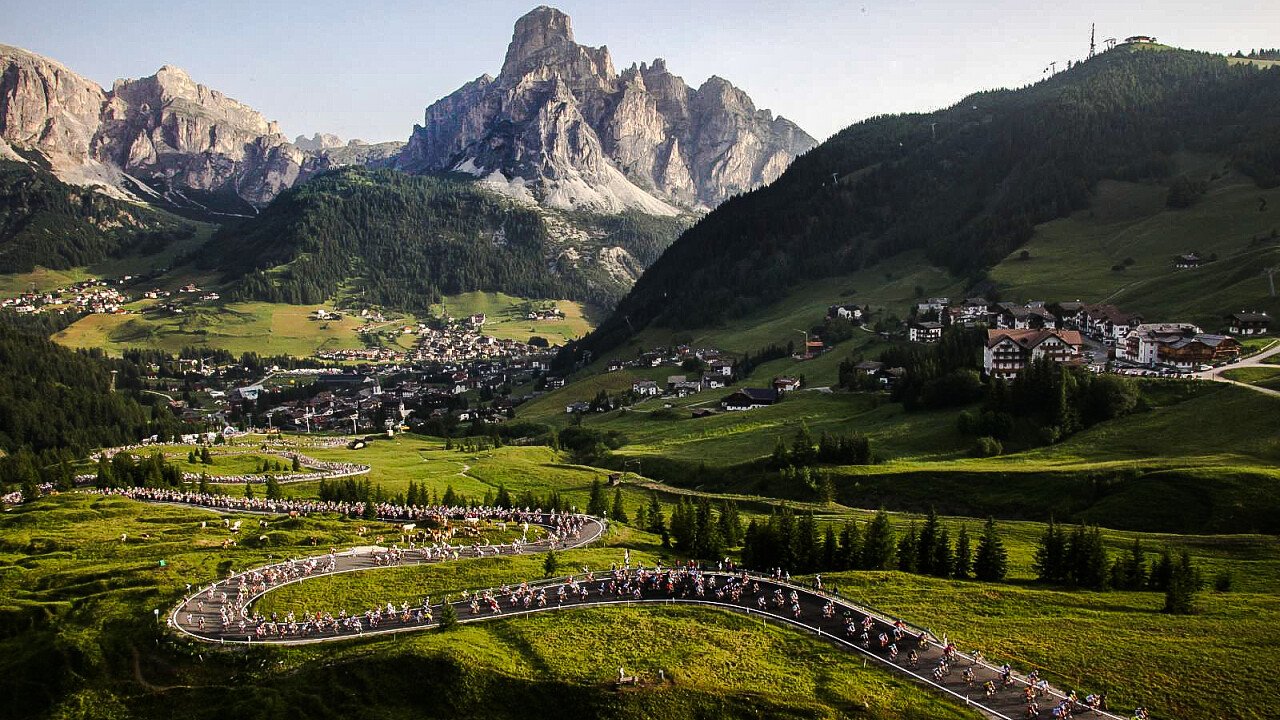 July 2nd, 2023: the Maratona dles Dolomites in Alta Badia celebrates its 35th anniversary. This race has turned to a must for all bike lovers, and thousands cyclists reach by bike the most beautiful Dolomite passes - Passo Campolongo, Passo Pordoi, Passo Sella, Passo Gardena, Passo Giau, Passo Falzarego and Passo Valparola - to imitate the great athletes of the Giro d'Italia. This is a race, but also a celebration.
Participants can choose among 3 different courses:
The MARATHON course (138 km, 4,230 m height difference)
The MIDDLE course (106 km, 3,130 m height difference)
The SELLARONDA course (55 km, 1,780 m height difference)
The roads will be closed to traffic during the race.
Courses of the Maratona dles Dolomites
Maratona course - 138 km
La Villa (start) - Corvara - Passo Campolongo - Arabba - Passo Pordoi - Plan de Schiavaneis - Passo Sella - BV. Passo Gardena - Passo Gardena - Corvara - Arabba - Pieve di Livinallongo - Andraz - Cernadoi - Rucavà - Belvedere di Colle Santa Lucia - BV. Selva di Cadore - Passo Giau - Pocol - Passo Falzarego - Passo Valparola - Ponte Rio Sarè - BV. San Cassiano - La Villa - Mur dl Giat - Corvara (finish)
Middle course - 106 km
La Villa (start) - Corvara - Passo Campolongo - Arabba - Passo Pordoi - Plan de Schiavaneis - Passo Sella - BV. Passo Gardena - Passo Gardena - Corvara - Passo Campolongo - Arabba - Pieve di Livinallongo - Andraz - Cernadoi - BV. Castello di Andraz - Passo Falzarego - Passo Valparola - Ponte Rio Sarè - BV. San Cassiano - La Villa - Mur dl Giat - Corvara (finish)
Sellaronda course - 55 km
La Villa (start) - Corvara - Passo Campolongo - Arabba - Passo Pordoi - Loc. Roja - Plan de Schiavaneis - Passo Sella - BV. Passo Gardena - Passo Gardena - Corvara (finish)
More info
SSD Comitato Maratona dles Dolomites Srl
Str. Damez 34
I-39036 Badia (BZ)
Tel. +39 0471 839536
info @ maratona.it