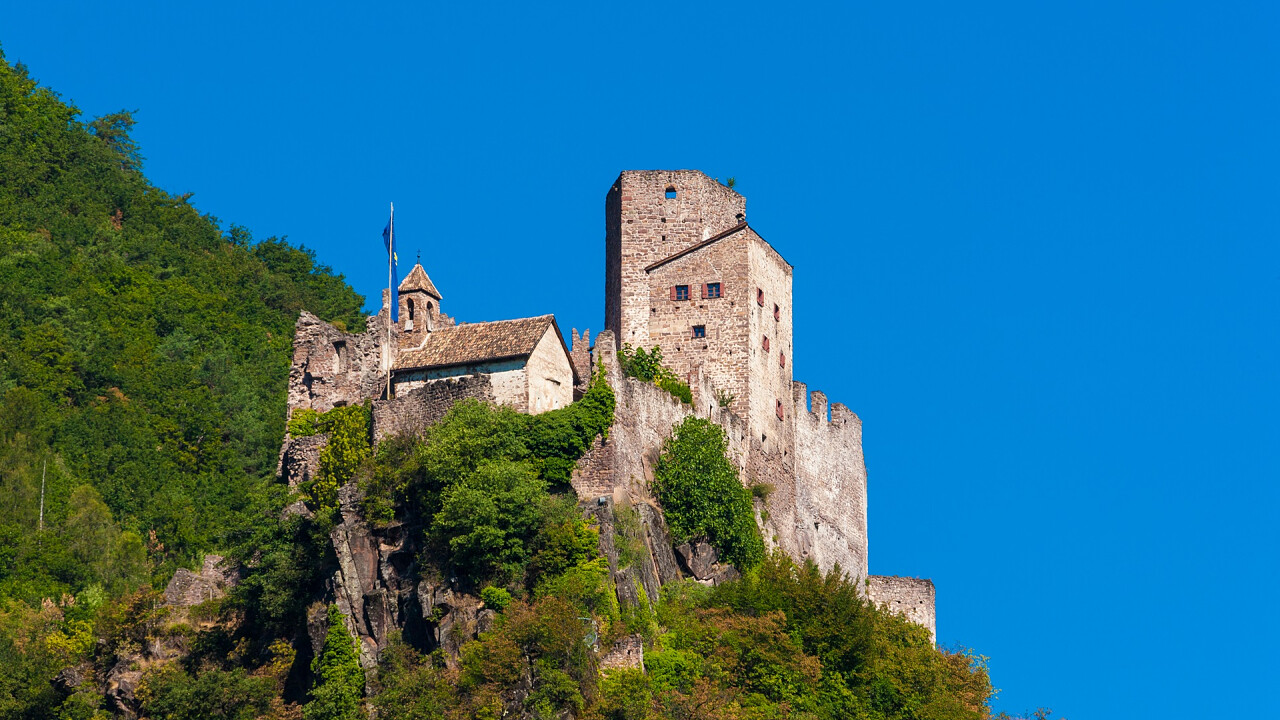 © Shutterstock
Castle Hocheppan is located on a rocky spur above Missiano, a hamlet of Appiano on the Wine Road. A majestic stone building, it is one of the most important medieval strongholds in South Tyrol. Today, the ruins of Eppan Castle offer their ancient beauty to art lovers, but also to hikers who can embark on the impressive "three castles tour".
According to some scholars, the castle was built between 1125 and 1130 on the orders of the powerful Count Ulrich II of Appiano, who wanted a powerful defensive fortress.
Following an ambush by the Counts of Eppan on the papal embassy, the castle was besieged and destroyed, but was soon rebuilt and passed into the hands of the Counts of Tyrol in 1315.
From 1911 onwards, Castle Hocheppan was owned by the Enzenberg counts, who restored the most dangerous parts of the castle.
Today, visitors to Castle Hocheppan can see the late medieval watchtowers and the partially preserved palace, dominated by the massive pentagonal tower.
The small chapel, built in 1131 and later annexed to the castle structure, contains beautiful Romanesque frescoes with sacred and profane themes: the deer hunting scene from the early 13th century, the cycle of the "wise" and "foolish" virgins and the dumpling eater (evidence of the Knödel culture in traditional South Tyrolean cuisine). There is a tavern inside the castle.
A few steps away from Castle Hocheppan stands the Kreideturm, a high quadrangular tower, which probably served as a strategic outpost, surrounded by the remains of a curtain wall.
The "three castles tour" is a beautiful walk of about 2 hours that leads through beautiful landscapes of orchards and vineyards to three famous castles of Appiano: Castel Corba, Castel d'Appiano and Castel Boymont.
The 3D archery course at Hocheppan Castle is open daily and invites young and old to a "hunt" with arrow and bow.
Prices
Adults: € 7
Free for children under 6 years
Children and youths from 6 to 14 years: € 3
Opening hours of Castle Hocheppan
Hocheppan Castle's doors during summer season are open daily from 10 am to 6 pm. On wednesdays the castle stays closed. Guided tours are offered every hour between 11 am and 4 pm in German, Italian and English.
For further information:
Castle Hocheppan
Via Castel d'Appiano, 16
39057 - Missiano Appiano (BZ)
Tel. (+39) 0471 662206