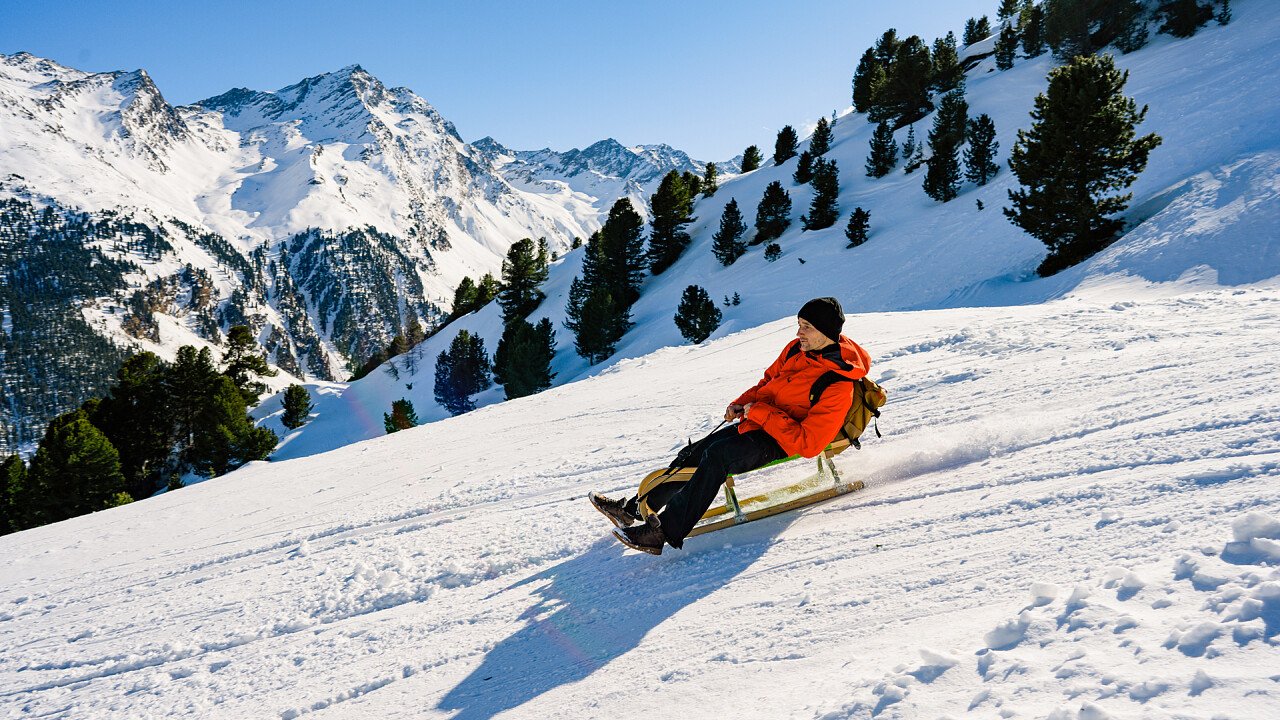 © Shutterstock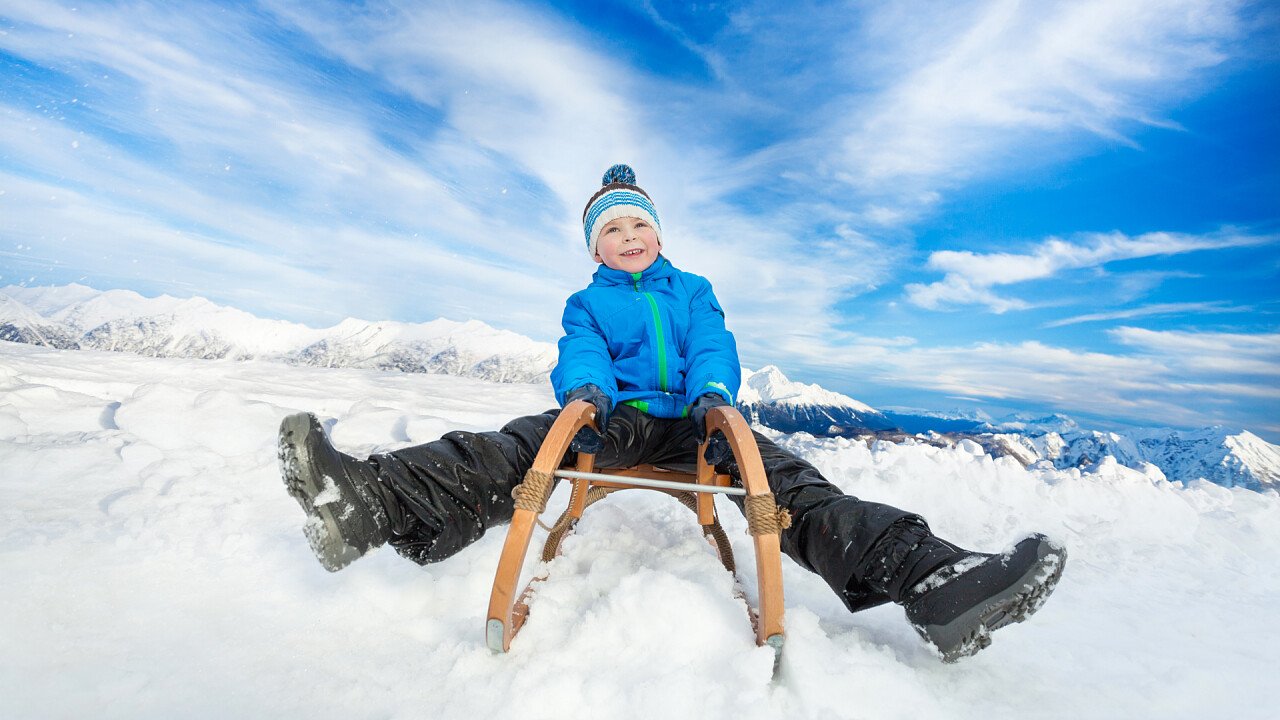 © Depositphotos
If you love snow, you can't miss the adventure of sledding: this is one of the most classical and traditional winter pleasures for adults and children. Sleds have always been used as a transport mean in the North of Europe: nowadays it is not only a leisure, but also a real sport, with athletes speeding on the frozen slopes.
As an amateur sport, sledding is safe and exciting, taking the right precautions. In the last years, this activity has become more and more popular not only for children. As a result, almost all ski areas in the Dolomites offer sledge and bob slopes, served by lift facilities and sometimes floodlit, so that you can sled by night as well.
Obereggen
Toboggan run Epircher-Laner Alm - Obereggen
Absam toboggan run.
Passiria Plan
Children's runway "Walten"
Bergkristall" race track
Eggergruberalm toboggan run, Pfelders from the Grünboden/Grünbodenhütte hut
Runway "Sailertal"
Val Gardena
Ortisei: from the top station of the Rasciesa funicular to Ortisei.
Valli di Tures e Aurina
Speikboden: from the top station of the Speikboden ski resort there are two slopes, one in Luttago (the longest toboggan run in South Tyrol with its 10 km) and one in Rio Bianco.
S. Giovanni-Kottersteg toboggan run
Toboggan run Tristenbach
Rio Bianco: from the top station of the Klausberg cable car (illuminated) to Cadipietra.
Tre Cime (Alta Pusteria)
Monte Elmo - Orto del Toro - Croda Rossa (Sesto): Signaue, Croda Rossa from the mountain station
San Candido: Monte Baranci.
Val Senales: from Baita Lazaun on the glacier of Val Senales.
Sarentino
Reinswalder Wiesn (illuminated)
Sunnolm race track
Slope Prati di San Martino.
Val d'Ega
Hubertus track in Carezza
From the Epircher Laner alpine pasture to the valley station of the Absam Maierl chairlift
Valle Isarco
Monte Cavallo: from Monte Cavallo to Vipiteno is the longest track in the Alps (illuminated) and winner of the ADAC safety test, suitable for all ages.
RudiRun slope on the Plose, the longest in South Tyrol
Colle Isarco: natural trail "Zirago" (Brenner Thermal Spa), natural trail "Allriss" (Fleres), natural trail from the mountain station to the valley in Ladurns
Racines: natural slope "Waldeben" in Val Giovo, natural slope "Atscherwiesen" near Telves, Val Ridanna, natural slope in Racines di Dentro
Campo di Trens/Val di Vizze: natural slope Fosse (Val di Vizze), natural slope Smudres (Val di Vizze), natural slope "Egg" (Campo di Trens), natural slope "Birchwald" (Stilves)
Val di Funes: Malga Gampen-Ranui, Ciancenon-Malga Zannes, Malga Gampen-Malga Zannes, Malga Dusler-Ranui, Malga Zannes-Ranui, Malga Kaserill-Malga Zannes
In Valles/Maranza/Vandoies-Val di Fundres: natural trail Rifugio Moser in the Valle d'Altafossa/Maranza, artificial trail near the tennis courts in Maranza, natural trail Fundres in Val di Fundres, natural trail Malga Fane in Valles (illuminated once a week)
Rodengo: toboggan run on the Alpe di Rodengo-Luson "Alter Almenweg" toboggan run
Surroundings of Bressanone: natural slopes Piana di Campo near S. Leonardo, Caredo near the farm "Perlungerhof"/Monte Ponente, Spelonca/Scaleres near Varna
Luson: Pezzè nature trail, 800 m (illuminated every Wednesday, 7 pm-22 pm), "Lüsner Almenweg" nature trail, Tulper Gampis/Malga di Luson-Rodengo nature trail
Chiusa: natural piste "Lahnwiesen-Lazfons", natural piste "Kasereck-Öberst" near Lazfons
Velturno: natural slope from the "Bruggerschupfe" hut (2,000 m) to Caernao in case of sufficient snow up to Snodres
Laion: natural slope from "Faller"(Ceves) stable to Laion
Villanders/Villandro: "Neuweg" nature trail from the "Gasserhütte" hut on the Villanders/Villandro Alp to "Speckboden".
Natural family-friendly slopes on the Villanders/Villandro Alp: "Toten", "Stöffl-Hütte" hut, "Mair in Plun" (illuminated), "Rinderplatz" hut
Plan de Corones
Riscone: Korer slope
San Vigilio di Marebbe: Cianross slope, Munt da Rin, 2 slopes from Rifugio Pederü one towards Senes and Fodara Vedla and the other towards Fanes.
Val Badia
San Martino in Badia: Börz-Fornella up to Passo delle Erbe;
Longiarù: Pares-Medalghes slope up to Passo Furcia, Do Juvel-Longiarù (illuminated).
Alta Badia
San Cassiano: natural toboggan run "Trù Liösa Foram"
La Val: toboggan run ending in Spëscia
Alpe di Siusi
Bullaccia slope
Panorama slope
Icarus slope - Monte Piz
Hofer Alpl slope
Spitzbühl slope on the Alpe di Siusi
Tuffalm slope above Lake Fié
Zallinger slope
Molignon slope
Haniger Schwaige alpine slope
Slope from Rungun to San Cipriano.