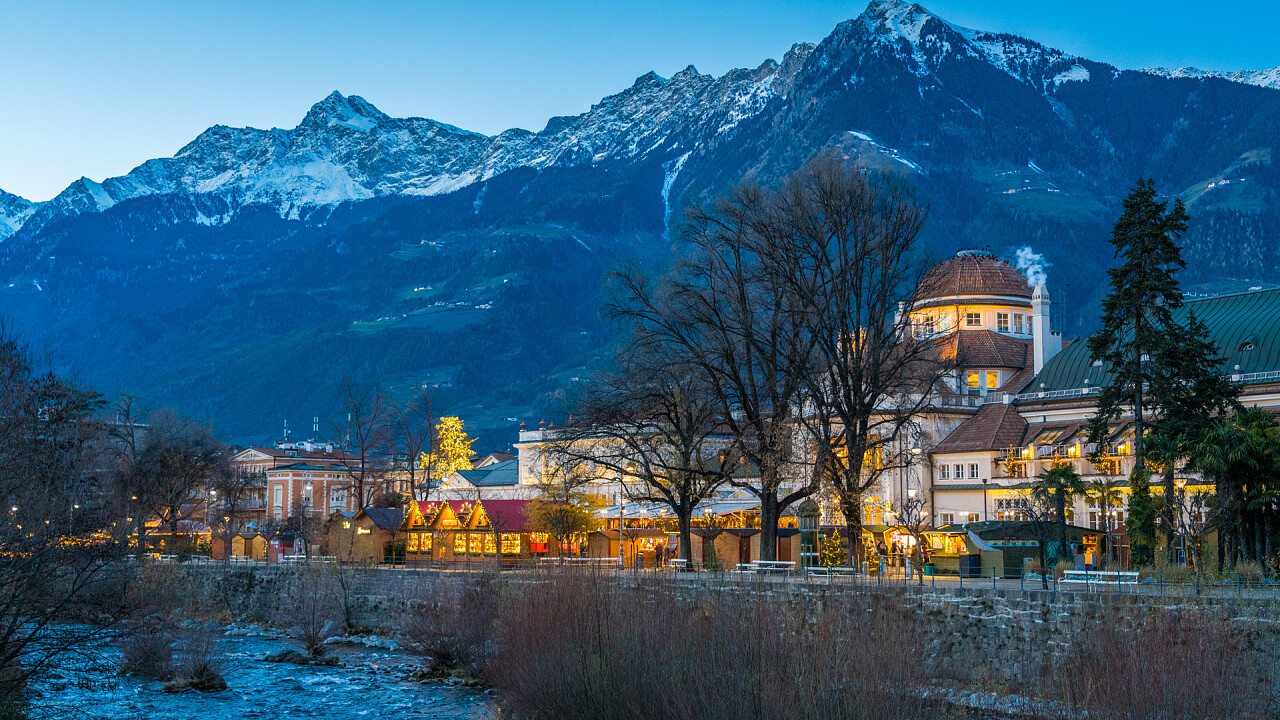 © Stefano Valeri | Dreamstime
© Stefano Valeri | Dreamstime
In the wonderful spa town of Merano, the Christmas Markets goes from November to January. The promenade along the Passirio river is filled with stands. Everything is magic here: the scent of cinnamon and spice reminding of homemade cakes, the soft lights and the decorated Christmas tree, the merry atmosphere...
Eighty stands offer Christmas decorations, boiled wool slippers, pottery, traditional fabrics, wooden statues and toys, traditional objects such as nutcrackers, Christmas pyramids, musical boxes... In many stands you can admire the craftsmen while they are creating their works. In the Christmas stands of Merano you can find many local products, such as speck, apple strudel, wine, mulled wine and cakes, while you listen to the music of choirs and bands and experience the traditions of Advent.
Merano Christmas Market opening hours
The Merano Christmas Markets are open daily from 25 November 2022 to 6 January 2023 (closed on 25 December).
The opening takes place on 24 November 2022.
Trade stands
Monday to Thursday 11 a.m. - 7 p.m.
Friday, Saturday and public holidays 10 a.m. - 8 p.m.
Sunday 10 a.m. - 7 p.m.
Special openings
24.12.2022 10 a.m.-3.30 p.m.
closed 25 December
31.12.2022 10 a.m. - 3.30 p.m.
06.01.2023 10 a.m. - 6 p.m.
Gastronomy stand
Monday to Thursday 11-21 hrs.
Fridays, Saturdays and public holidays 10-22.30 hrs.
Sunday 10-21 hrs.
Special openings
24.12.2022 10-17 hrs.
closed 25 December
31.12.2022 10-17 hrs.
06.01.2023 10 a.m. - 6 p.m.
Getting there
By train
All interregional trains on the Munich-Verona Line stop in Bolzano. From there, you can catch a regional connection to Merano, with departures every half an hour. For information about tickets and schedules visit the website of Trenitalia, DB – Deutsche Bahn e ÖBB – Österreichische Bahn.
By coach
When traveling to the Christmas market by coach, special signs will guide you easily to the city centre. Parking for coaches is provided on via delle Palade, near the ice-skating rink Meranarena. Fifteen-minute parking is available for drop-off/pick-up on Via Piave near the Therme of Merano.
By car
Take the Bolzano Sud exit from the A22 motorway (Autostrada del Brennero) and follow the road toward Merano (Merano-Bolzano/MeBo highway). Take the Merano Baia Bassa or Merano Center exit, from here you will quickly reach the city centre and the most atmospheric Christmas Market in South Tyrol.
Merano offers a number of parking choices: the "Blue Park" spaces (blue markings on the ground, purchase ticket from the vending machine) and pay lots/garages (shown on the city map):
Garage Terme Merano
Plaza – Via Goethe
Cantina Sociale di Lagundo – Via Galilei
Karl Wolf – Via Verdi
Centro commerciale Bristol – Via Ottone Huber
Parkhaus Obermais – Via Scena
Meranarena – 15 min. walk from the Christmas Market
You will also find free parking on Piazza Prader in front of the train/bus station (15 min. walk from the Christmas Market or a bus operated by SASA is also available). Please note that on Tuesday and on Thursday the area is available starting from 17.00 because of the main market.
By camper: the Camping Site Merano is located in delightfully quiet surroundings only 10 mins. walk from the Christmas Market and can accommodate up to 300 guests and 120 caravans or camper vans. Basic amenities (hot water, showers, sanitary facilities), as well as the site's camping gas and electricity supply, ensure a carefree stay. Free WIFI access is provided.
Additional information: APT Merano, (+39) 0473 272000