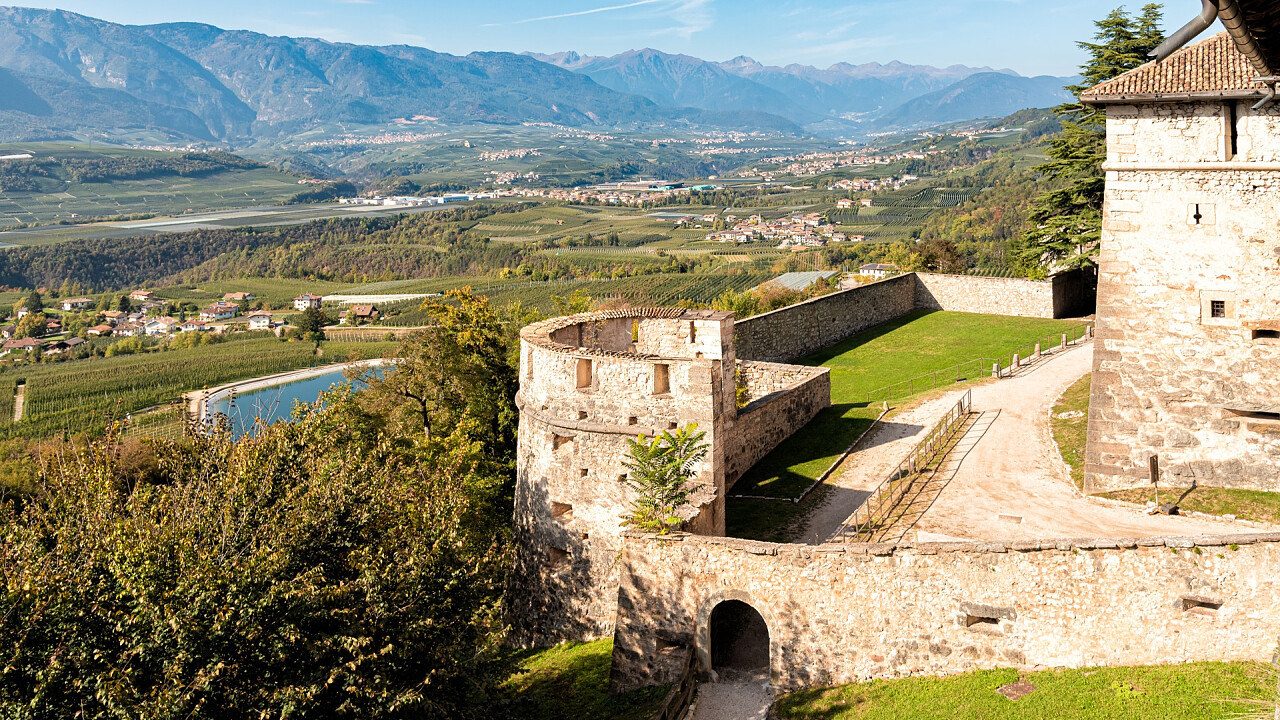 © Ellesi | Dreamstime
© Alberto Masnovo | Dreamstime
Until few years ago the castle belonged to the family Thun, but nowadays it belongs to the Autonomous Province of Trent. The castle lies on a hill and distinguishes for its imposing walls, the corner towers and the moat with the drawbridge. Partly visitable.
Lucky people who can admire from above Castel Thun, in Vigo di Ton, can better describe its imposing shape with the walls 20 m tall, spaced out by heavy square towers. The castle had been residence of one of the nobles families in the area.
The actual shape of the palace is dated back to the XVI century, when the original medieval building was restored. The castle counts 150 rooms, to say nothing about the vaults and the cellars directly excavated on the stone.
The castle keeps in its rooms wonderful decorations and superb ancient furniture among which there are the "Ladies' Room ", the globe room, the spinet room and the ancestors' room completely covered with family pictures. Saint George chapel still keeps precious frescoes of the first years of the XV century.
Nowadays the castle belongs to the Autonomous Province of Trent and is open to the public.
Tickets
Full: 8.00€
Reduced: 6.00€ (People aged of 65 years and over, groups of visitors, recognised as such by the museum, comprising at least 15 paying visitors, associates or members of public and private organisations recognised by the museum)
Redueced Young (Visitors aged 15 to 26 years old): 5.00€
Opening times 2022
- From Tuesday 11 January to Sunday 20 March 2022 open only on Saturday and Sunday from 9.30 to 17.00 (Accompanied visits at a fixed time every 30 minutes) *
- From Tuesday 22 March 2022 to Sunday 1st May 2022 open from Tuesday to Sunday from 9.30 to 17.00
- From Tuesday 3 May 2022 to Sunday 6 November 2022 open from Tuesday to Sunday from 10.00 to 18.00
- From Tuesday 8 November 2022 to Friday 16 December 2022 open only on Saturday and Sunday from 9.30 to 17.00
- From Saturday 17 December 2022 to Sunday 8 January 2023 open from Tuesday to Sunday from 9.30 to 17.00
- Closed on non-holiday Mondays, December 25th and January 1st
EXTRAORDINARY OPENINGS: Monday: 31 October 2022, every Monday from 1 to 29 August 2022, all public holidays
For further information
Castel Thun
Vigo di Ton - Valle di Non
Tel. +39 0461 492829