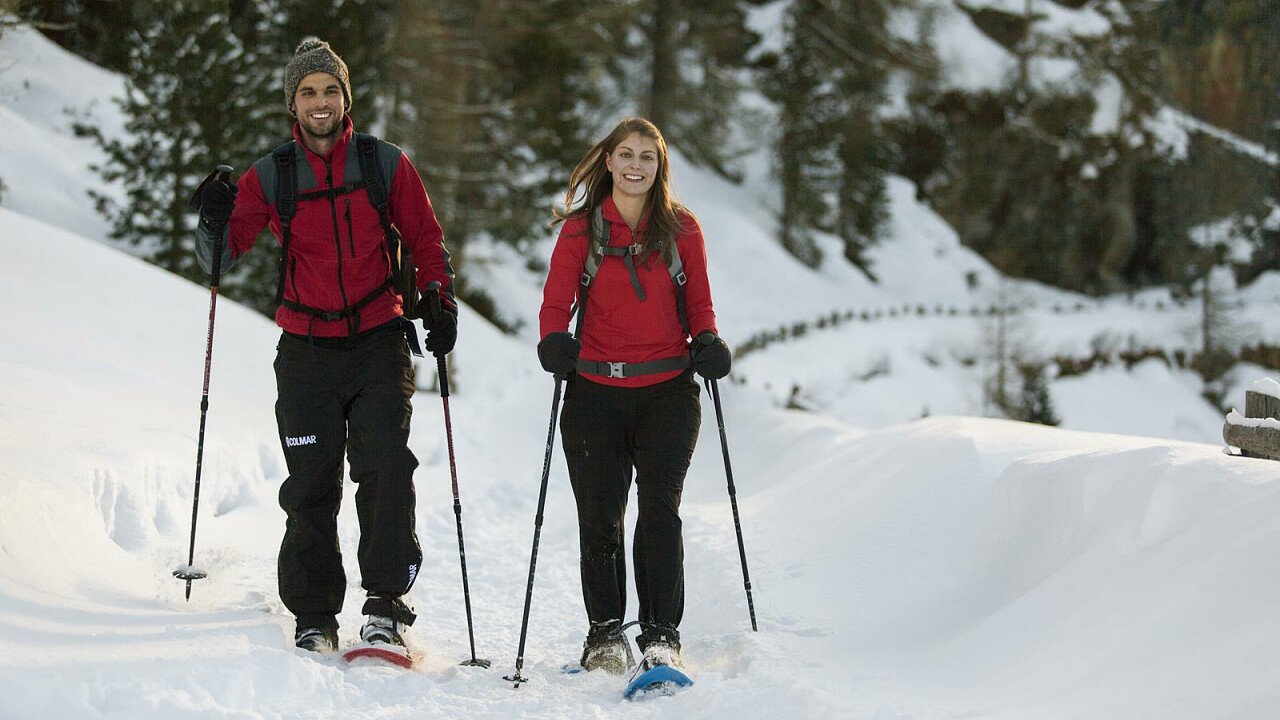 © Vinschgau Marketing – Frieder Blickle
The Passo Resia holiday area offers a dense network of trails for snowshoeing: discover snowy landscapes and reach typical alpine huts open even in winter, such as a nice hike around Lake Resia or Lake S. Valentino, or an easy walk from Resia to the Hofschank Tenders. Very popular for snowshoeing is the Vallelunga located at the foot of the Ötztal Alps.
The easiest walks are suitable for the whole family, while the more experienced can undertake panoramic hikes in the high mountains with alpine guides.
Before leaving for mountain excursions it is always advisable to consult the avalanche bulletin and know your abilities and fitness level.
In the Passo Resia area there are several sports shops and ski rentals where you can rent snowshoes.
Guided tours offered by local mountain guide Josef Plangger (cellphone +39 349 0075721)
Among the various excursions with snowshoes, here are some recommended itineraries:
Malga Brugger - Val di Zerzer: walk of about 9 km in 3 hours and 30 minutes, departing from San Valentino alla Muta
Malga Planol: 9 km excursion in 4 hours and 30 minutes, starting from Planol
Resia al Pian dei Morti: 9 km excursion in 4 hours and 30 minutes, starting from the Resia sports field
Resia - Vallierteck: easy walk of 4 km in 2h and 30 minutes, departing from Resia and arrival at the Froj farm
Tscheyer Scharte: demanding excursion of 5 km in 7 hours, starting from Vallelunga and arrival at altitude (check avalanche bulletin first)
Curon - Malga di Curon - Cima Grosshorn: panoramic hike with views of the Alta Val Venosta of 8 km in 8 hours, departing from Vallelunga and arriving at Cima Grosshorn (check avalanche bulletin first)