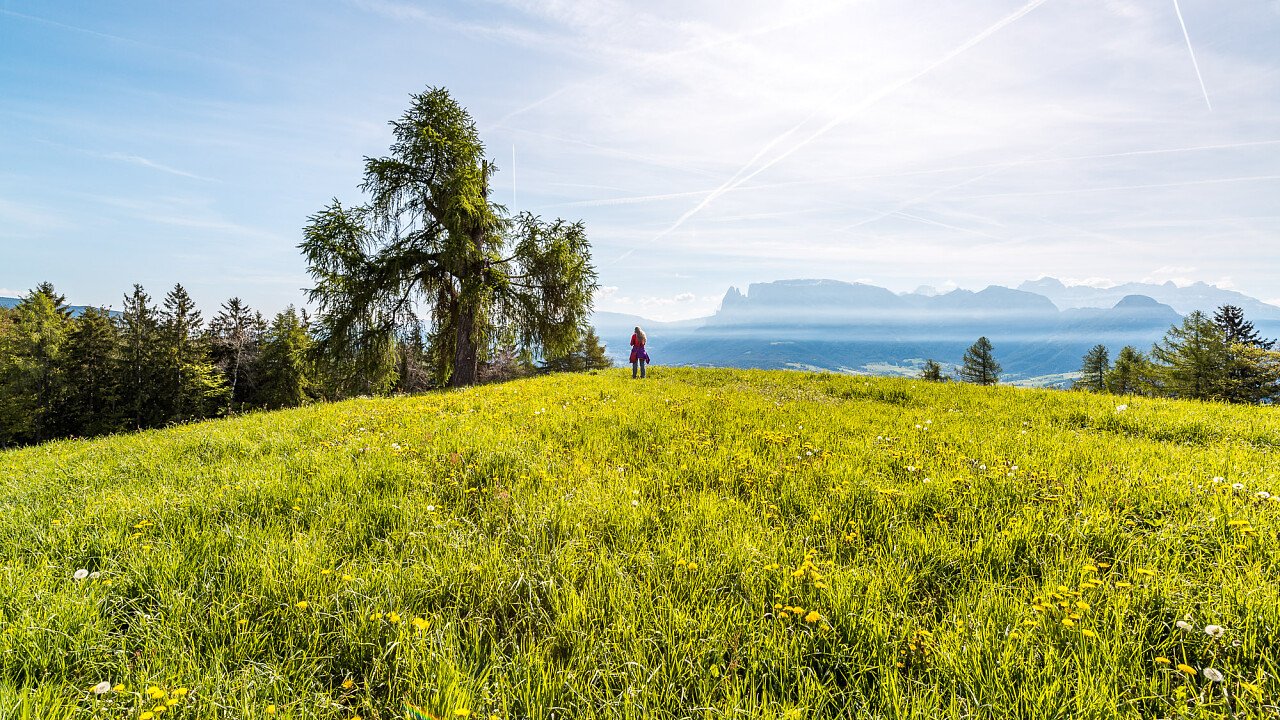 © BVD – Achim Meurer
Starting-point: Soprabolzano/Oberbozen (1200 m)
At a glance: Soprabolzano/Oberbozen - Signato/Signat- Auna di Sotto/Unterinn- Rielinger - Siffiano/Siffian - Collalbo/Klobenstein
Highest point: Soprabolzano/Oberbozen (1200 m)
Difference in altitude: 600 m
Difficulty: four climbing-boots hike
Useful advice: quite long hike, not recommended after very hot or rainy days. Sure pace required. After a downpour some stretches of the path can be slippery.
Itinerary description: from Soprabolzano/Oberbozen we follow blue footpath number 23 and then the 23/b until we reach the Bachhütterhof. Proceeding on the right after a large field we arrive at an asphalt road that we follow for about 200 mt. when we find on our left the footpath 31/b (called Bauernjugendsteig).
This one becomes very narrow and takes us to the Patschunterhof (996 m; refreshment available) In this hut there are many peacocks, whose plumage are used to produce fanciful manufactured articles. At the side of the hut there is a bench from which a magnificent view of Bolzano/Bozen is enjoyable.
From here we go on along church footpath number 31/a till Auna di Sotto/Unterinn (899 m; about 2 hours far from Soprabolzano/Oberbozen). We recommend a visit to the parish church of S. Lucia; refreshment available at the Wunder Hotel (closed on Wednesdays) with its beautiful traditional Stube. Above the church the red footpath with the sign of the pyramidal lands covers its way among some orchards and arrives at the white pyramids of earth produced by erosion. Afterwards we cover a steep and difficult path until the Relingerhof (776 m; about 1 hour far from Auna di Sotto/Unterinn).
Here you can taste the traditional Buschenschank (refreshment place) and the famous homemade cheese, speck and wine (closed on Mondays). Heinl the farmer is a nice and cheerful man who knows lots of funny stories as regards those Laces/Latsch. To go up to Siffiano/Siffian (998 m) we use red footpath number 11.
A visit to the just restored Peterskirche (Saint Peter church, whose key is available in the contiguous hut) is recommended. Finally we continue on red footpath number 11 and on the blue one number 340 till Collalbo/Collalbo/Klobenstein (1100 m; about 1 hour and half far from Rielinger).
The return can be faced by train (a small one which arrives at Soprabolzano/Oberbozen) or on foot on blue footpath number 11 or on the blue one number 8 (a walk of about 1 hour and half).
Maps: Freytag & Berndt, sheet S 1 (Bolzano/Bozen - Merano/Meran e dintorni); Kompass, sheet 54 (Bolzano/Bozen).