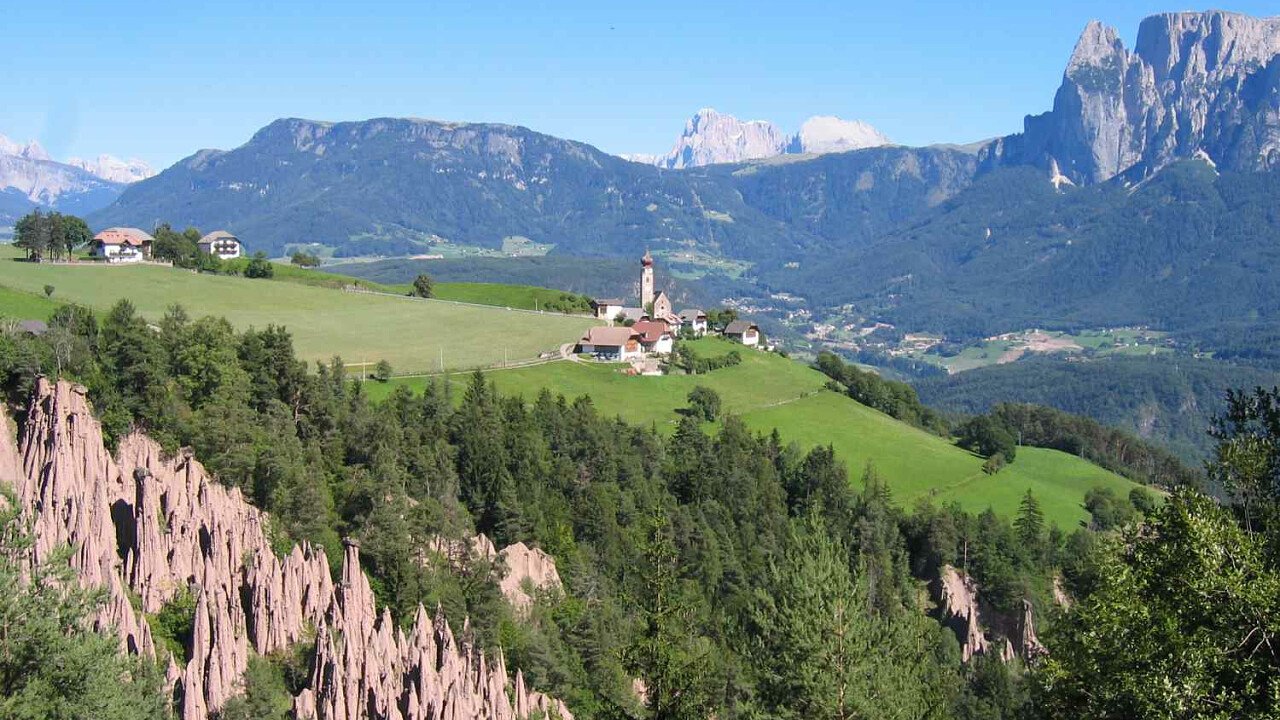 © Associazione Turistica Renon – Kaurin Bauer
From Sopra Bolzano/Oberbozen (Wanderhotel Regina) we walk along the road and the blue footpath number 1 until the level crossing, then we continue on our left up to the Lichtenstern (1,279 m), where we can have a break and a snack at the Lichtenstern Hotel (closed on Tuesdays).
Now we follow the blue footpath number 28 till the asphalt road which arrives at Caminata/Kematen/Kematen (1,322 m; refreshment available, closed on Mondays, about 1 hour far from Sopra Bolzano/Oberbozen). We recommend You a visit to the Gothic-style church. Following the blue footpath number 29 in north-east direction we reach S. Maria/Maria Saal (1,174 m). We have a visit to the pilgrimage place with the frescoes "Maria con l'ombrello" (Maria with the umbrella). Refreshment available at the nearby hotel (closed on Friday) or at the Egarter Hotel (closed on Monday, about 1 hour far from Caminata/Kematen/Kematen).
Now we go back on the "Erdpiramidensteig" (Path of the pyramides of earth, blue footpath number 24) towards Collalbo/Klobenstein (1 hour). The pyramides of earth are a unique natural spectacle as they shape (along with Sciliar/Schlern and Sassolungo/Langkofel) one of the most magnificent views of the whole Alto Adige/Südtirol. From Collalbo/Klobenstein we return to Sopra Bolzano/Oberbozen by train (alternatively we can walk along blue footpath number 1 or blue number 8 for about 1 hour and ½).
Useful advice: this is an easy hike without any difficulty, suitable also for elders and children.
Maps: Freytag & Berndt, sheet S 1 (Bolzano/Bozen - Merano/Meran e dintorni); Kompass, sheet 54 (Bolzano/Bozen).
Starting-point: Sopra Bolzano/Oberbozen, Wanderhotel Regina
At a glance: Sopra Bolzano/Oberbozen - Lichtenstern - Rappersbühl - Caminata/Kematen/Kematen - S. Maria/Maria Saal - Collabo/Klobenstein
Highest point: Caminata/Kematen/Kematen (1,322 m)
Altitude difference: 300 m
Difficulty: three climbing-boots hike