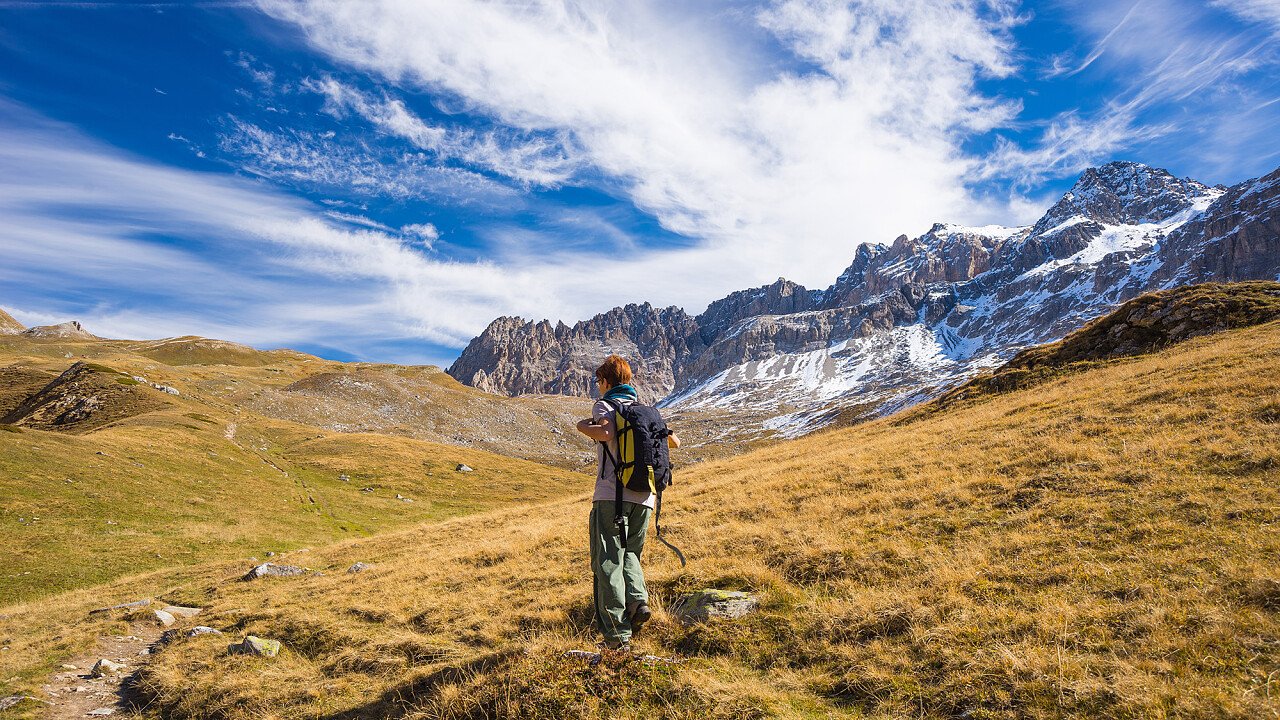 Starting-point: Kreuznerhof/Elle/Ellen (1550 mt.)
At a glance: Kreuznerhof - Walderalm - Cima Lasta/Astjoch - Rifugio Campoforte/Starkenfeld and Rastnerhütte - Moasalm - Kreuznerhof
Highest point: Cima Lasta/Astjoch (2194 mt.)
Altitude difference: 644 m
Difficulty: four climbing-boots hike
Useful advice: hard hike with steep ascents, unfair terrain passages and gravelled paths. This is the reason why we recommend this one only to expert people. Anti-slide boots required. A story tells that a poacher coming from Luson/Lüsen, relying on his magic, didn't miss a shot. He aimed also the wild animals outside the zone of Luson/Lüsen, for example the zone on the Monghezzo/Getzenberg. But one day some hunters coming from the Val Pusteria/Pustertal followed and captured him, and then brought him to Casteldarne/Ehernburg's knight. The poacher followed peacefully the hunters, but step by step they realised they had been bewitched, because they were unable to reach Casteldarne/Ehernburg, continuing to walk around Luson/Lüsen.
Itinerary description: we go eastwards by car towards Casteldarne/Ehernburg along the main road. After the gas station we turn right towards Montana/Montal, we go uphill for a while and then we turn right again towards Elle/Ellen, reaching the small parking of Kreuznerhof (1550 mt.). After the bar we cover the steep footpath number 67 that directly conducts to the Cima Lasta/Astjoch.
The so-called "old path" covers a shady wood; at 1908-mt. height there is the Walderalm where we can eat something and relax. In the last 2000 metres we meet only little bushes of dwarf pines. On the top we can sign the book just at the side of the cross, to leave here a nice memory of our passage.
Around us there are the beauties of the area: Sass da Putia/Pleiterkofel, Gran Odle/Geisler, Sciliar/Schlern, Ötzal Alps, Zillertal Alps and all the other surrounding tops. Afterwards we can go down from the western side following footpath number 67 walking towards Rifugio Campoforte/Starkenfeld and the Rasnerhütte: both the huts offer refreshment. From the Rastnerhütte we continue on footpath number 67 till the Moasalm and finally we cross the wood covering footpath 67 B, going back to the parking.
Maps: Freytag & Berndt, sheet S 3 (Val Pusteria/Pustertal Brunico/Bruneck - Tre Cime); Kompass, sheet 56 (Bressanone/Brixen).