Cermes
© Patrick Schwienbacher | Associazione turistica Lana e dintorni
© Helmut Rier | Associazione turistica Lana e dintorni
© Helmut Rier | Associazione turistica Lana e dintorni
© Helmut Rier | Associazione turistica Lana e dintorni
© Helmut Rier | Associazione turistica Lana e dintorni
© Helmut Rier | Associazione turistica Lana e dintorni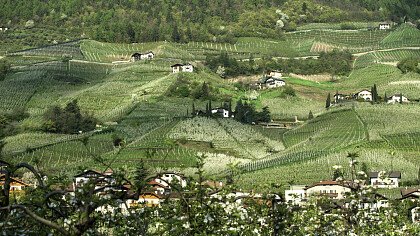 Request a free holiday quote
Hotel Cermes
Cermes: holiday between castle, nature and sport
Cermes is a small ancient municipality located near Merano, in South Tyrol, between the villages of Marlengo and Lana. It's a nice hamlet rich in history, perfect for a relaxing holiday in the nature not too far from the famous spa resort of Merano.
The first thing you see when you reach Cermes is the imposing Monteleone Castle, dating back to the 13 century, and owned first by the Lebenberg lords and then, since 1426, by the Von Fuchsenberg family. The castle has a chapel, an armory, a hall with rococo mirrors, and a wonderful garden.
Cermes is much older than its castle: the first written documents date back to 875, but the most ancient finds are from the Stone Age. Among its attractions there are the churches of Saint Sebastiano and Saint Anna.
Cermes, surrounded by a lush nature and favored by a mild climate, is perfect for outdoor activities: from easy walks with the family to exciting rafting, you can do everything you want.
A nice walk is for example that along the old irrigation channel connecting Monteleone Castle to Marlengo, a trail perfect also for Nordic walking. If you prefer climbing and trekking you don't need to go far to find many interesting trails on the peaks surrounding you: Dolomites, Ötztal Alps, Sarntal Alps, Ortles-Cevedale Group, and the Haute Route of Merano.
In winter you can practice downhill or cross-country skiing in the near ski areas, or go snowshoeing in the silent nature.