© www.wisthaler.com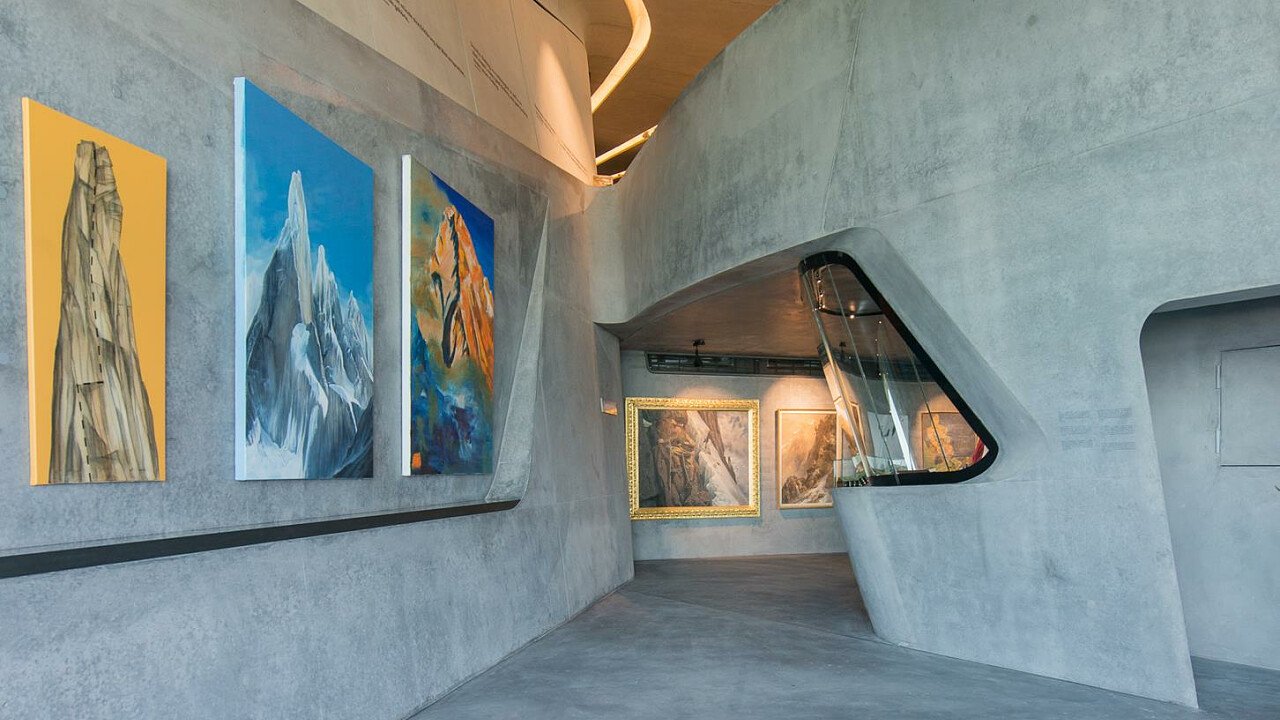 © www.wisthaler.com
The Messner Mountain Museum, dedicated to traditional mountaineering, is located at Plan de Corones at 2275 m, between Valdaora, Val Badia and Val Pusteria and closes the Messner Mountain Museum circuit. Located on the edge of one of the most spectacular viewpoints in South Tyrol, the museum traces the evolution of modern mountaineering over the last 250 years.
The Messner Mountain Museum Corones, designed by Zaha Hadid, is characterised by a unique structure, built according to parametric criteria, made up of large windows from which to admire the surrounding mountains at 360°, from the Lienz Dolomites to the Ortles, from the Marmolada to the Zillertal Alps. The museum, most of which is built underground so as not to interfere too much with the surrounding landscape, houses a permanent exhibition on traditional mountaineering: the improvements in equipment, the triumphs and tragedies that occurred on the world's most famous mountains, from the Matterhorn to K2, all told through quotations, works of art such as paintings and sculptures, and relics that pay homage to the greatest figures, philosophers and pioneers of mountaineering.
The museum consists of two levels, the first is dedicated to "The beginnings. R. Messner's precursors in the Dolomites and the Alps, from the mineral prospectors to the Matterhorn'. The second level is dedicated to "The beginnings. The great walls: the cradles of extreme mountaineering, from Yosemite Park, empire of the sixth degree, to the Rupal Wall". Here, a large glass window offers a unique view of the Sasso di Santa Croce. Along the route there are several showcases displaying collections of rock pitons from 1870 to the present day, objects that tell the story of the evolution of equipment, memorabilia of great mountaineers, such as Paul Preuss's hammer or Toni Egger's ice axe.
In the 'balcony' area, stories are told about the great challenges in the Dolomites and Central Alps, the Sass de Putia, the crampon collection and the story about the rocks and R. Messner's years of apprenticeship.
Opening hours and period of the Messner Mountain Museum Corones
The museum is open from the first Saturday in June until the second Sunday in October and from the end of November until mid-April.
Timetable (linked to the cable car timetable) 10.00 - 16.00
Last admission 3.30 p.m.
No days off
Summer season 2022: from 01.06.2022 until 31.10.2022.

In summer the cable car in Olang will not be in operation.
Prices
Adults: € 10
Children (6-14 years): € 4
Students under 28 years, disabled persons and pensioners over 65 years: € 8,50
Family ticket (2 adults and at least 1 child under 14): € 22
Groups (minimum 15 people): € 8,50/person
School classes (6-18 years): € 4/person
MMM Tour Ticket (cumulative ticket that allows access to the 6 museums of the circuit - Ripa, Dolomites, Juval, Firmian, Ortles and Corones). It can be found at all museum sites, allows a single entry and is valid for one year from the date of issue.
Adults: € 40
Concessions (students, pensioners, groups, disabled): € 35
Family: €90
Children: € 15