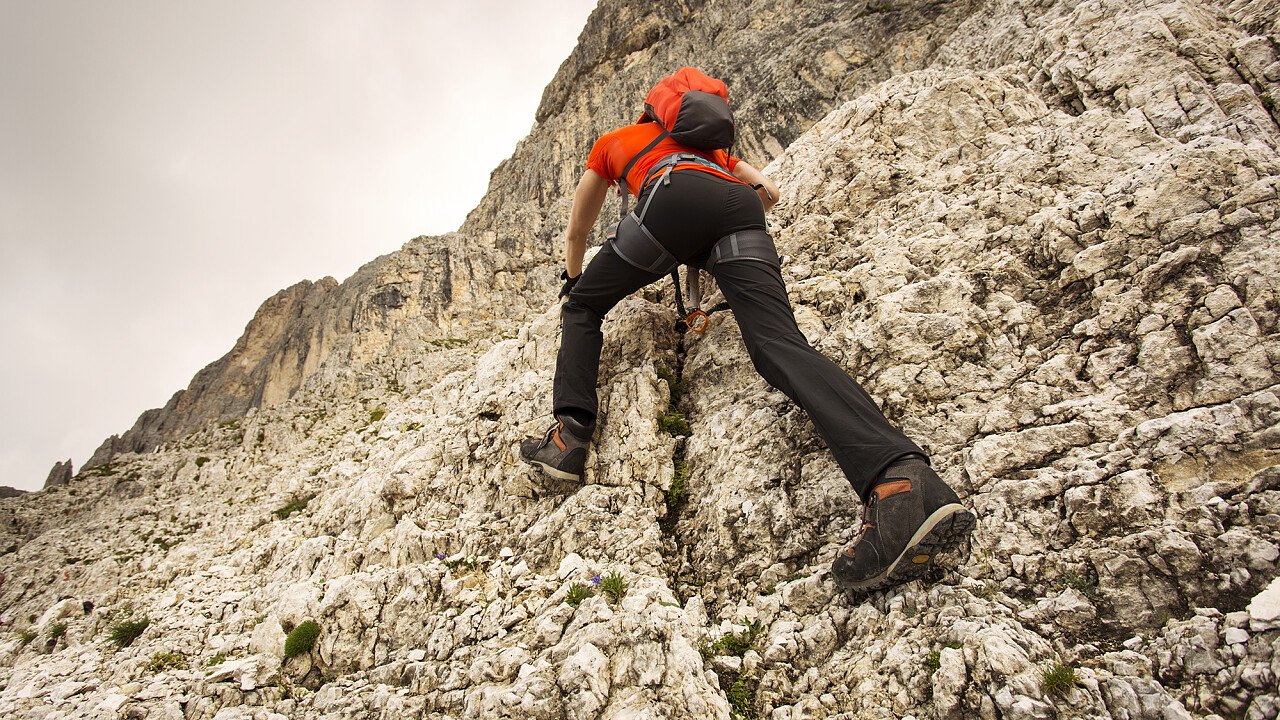 From Sonino al Coldai Hut follow for a few metres the path n. 560 to Forcella Coldai, then turn left into sentiero Tivan; the starting of the ferrata is about 1,30 hours far from the Forcella del Schienal del Bech. The ferrata winds along the eastern slope of the Civetta. At the beginning you have to climb with the help of some metallic ropes as far as a vertical stretch that you have to cross through some ladders on the rock. Then along some passages marked in red, keeping the left, climb along little deep valleys and walls to the middle of the spur of the Punta Civetta, with not equipped stretches of I° and II° degrees. Then you will arrive to a little pass between a projection and the Punta Civetta.
Along a path climb to Punta Tissi (2992 m) and, continuing on the ridge, partly equipped, you will reach the peak (3220 m).
From the peak descend to Torrani Hut, excellent support point for all those who decide to cross the massif along its two ferratas, or for those who climbs along the "traditional route" and for the mountaineers who practised on the North-western wall.
Descent: From the peak, follow the signs and descend along the eastern slope as far as the Torrani Hut (2984 m). From here the descent continue along the well-marked path along the via normale del "Piovanèl", a partially equipped path, that you must not underrate, especially in case of snow or fog.Alternatively you can choose to descend along the Ferrata Tissi a binding itinerary which requires a good training.
Max. altitude: 3220 m
Difficulty: difficult, long, mountaineering
Starting point: Palafavera (1507 m), along the S.S. 251 highroad, Pecol di Zoldo Alto and south of the Forcella Staulanza.
Support points: Adolfo Sonino al Coldai Hut (2132 m).
Difference in height: about 1200 m Duration: 8-9 hours, 5 of which for the ferrata
Notes: The Alleghesi is one of the classic ferratas of the Dolomites. The itinerary is very binding, not only for the technical difficulties but also for the length and the altitude.