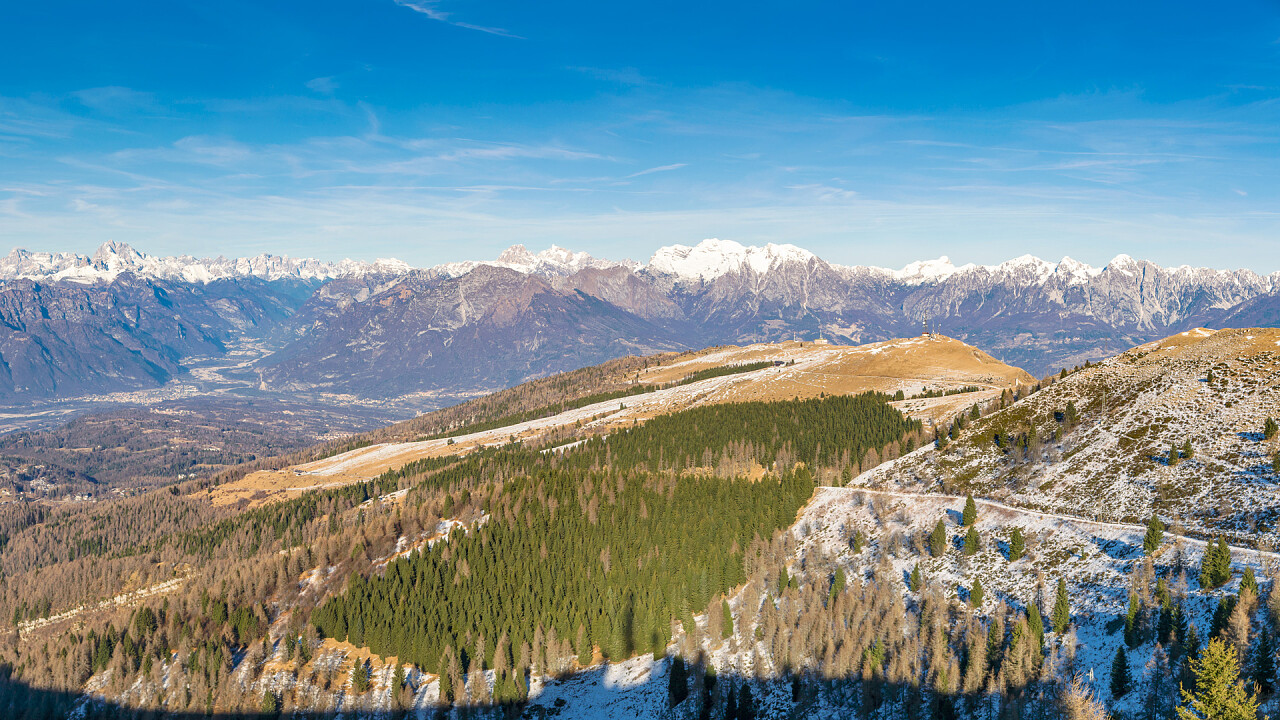 © Shutterstock
The Sanctuary was wanted by the Bishop of Belluno - Feltre, Mons. Maffeo Ducoli, in order to offer a religious service to Nevegal tourists and to gather the pilgrims with a special devotion to Our Lady of Lourdes.
The Sanctuary project was made by the architect Eugenio Abruzzini from Roma, helped by the engineers Vincenzo Barcelloni Corte and Siro Andrich, both from Belluno.
The building firm that built the sanctuary was Improviter from Sedico, in the province of Belluno, in collaboration with other firms.
The first steps, with projects and preparation, are dated back to the beginning of 90s, while the laying of the foundation-stone took place 21 march 1992. The solemn inauguration was 30 July 1994 with the opening of the church to the cult. The Atmosphere you breathe inside the sanctuary is very suggestive. Strong is the call of the Holy Virgin that, with her mantle hugs all men and the pilgrims who come here to pray. The Sanctuary gather works of well-known contemporary sculptors, mosaics of the Spilimbergo school and Veneto ceramics. Since the day of the Consecration of the Temple, 1 May 1995, and increasing number of pilgrims, devotes and visitors has visited the Sanctuary. The sacred structure consists of the Church, the great portico, the Chpel of the Blessed Sacrament and of the Reconciliation, the meeting room, the Grotto of the Immaculate, the Rosary Chapels, the Via Crucis, the house of the people who works there, facilities and car parks.
Accommodation Four stars hospitality at HOTEL OLIVIER **** in a wonderful position in the Dolomiti Bellunesi, in the centre of the Nevegal.
Where The Sanctuary lies in Belluno town council, at 1000 m, in the centre of a wonderful valley, in the Nevegal table land, where a crowded and equipped summer and winter tourist resort has developped.
How to get there Follow the road directions to Nevegal, where there are the directions to the Sanctualry too. Groups should advise about their visit at the following telephone number +39 0437 907060. The address is Nevegal, 32010 Col di Cugnan, Belluno. Bar Restaurant and Hotels are available in the area, reservation is compulsory for groups.
USEFUL COMMUNICATION The sanctuary is a legally recognized non-profit organization. A rector priest, helped by a permanent deacon, three nuns and volunteers, manages it. Holy Masses are celebrated on request and the priests are always at pilgrims' disposal for confessions. Programmed Holy Masses according to the following timetable: Holidays: Saturday h. 17/18 - Sunday h 10,30 and 17/18 Groups should advise about their visit at the following telephone number: +39 0437 907060.